We've updated our Privacy Policy.
By continuing to use this site, you are agreeing to the new Privacy Policy.
Robbie Ray wasn't pleased with his outing Tuesday in the D-backs' 6-5 loss to the Angels. The lefty starter gave up just two hits -- a pair of doubles to center field -- but he walked five, including one with the bases loaded. Ray keeps Spring Training results in perspective, however, and he's confident he'll be where he wants to be by his first regular-season start.
D-backs left-hander Robbie Ray called it "a step forward." He prepared for it with a couple of longer bullpen sessions in which he worked toward fine-tuning his mechanics and timing.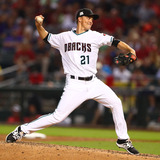 Zack Greinke has been named the starter for Game 3 of the NLDS between the Arizona Diamondbacks and Los Angeles Dodgers on Monday, as expected.Greinke started the NL wild-card game for the Diamondbacks and was knocked out in the fourth inning. He allowed four runs and six hits over 3.2 innings in the 11-8 win over Colorado. He only made 58 pitches in the game, so he should be pretty...
LIKE WHAT YOU SEE?
GET THE DAILY NEWSLETTER: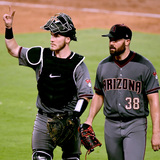 It is said that in baseball, it is not always about being the best for the entire season, but getting hot at the right time. And when it is all said and done in October, if the Arizona Diamondbacks defy the odds and return to their first World Series in over 15 years, it could be said that Labor Day marked the high-water point of them putting it all together for the winning run....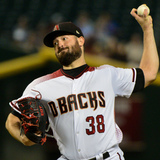 Happy Labor Day, everyone! Our gift to you is a quartet of aces in isolation. And, a lefty duel to wrap up the evening. Check 'em out! Today's Matchups LHP Robbie Ray (ARI) versus LHP Rich Hill (LAD) — 8:10 p.m. ET Ray hasn't missed a beat since returning from a comebacker/concussion issue. He's tossed back-to-back stellar starts to lower his season ERA back below 3.00, where it...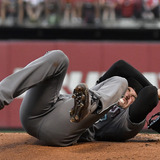 A scary situation unfolded at Busch Stadium in St. Louis Friday night. Arizona Diamondbacks starting pitcher Robbie Ray was struck in the head by a line drive off the bat of Cardinals first baseman Luke Voit.The play in and of itself was as scary as it gets. Ray was able to stand and walk to the cart that helped him off the field. In the process, he received a standing ovation from...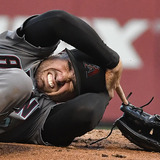 Robbie Ray gave an encouraging sign after perhaps the scariest moment any pitcher can experience while on the mound.During the second inning of Friday's game between the Cardinals and Diamondbacks, St. Louis first baseman Luke Voit hit a ball back up the middle that struck Ray in the head. Below is the video of the incident, which is obviously graphic in nature. Ray was immediately...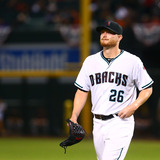 The Arizona Diamondbacks are giving a second chance to a guy who has been a huge disappointment. According to Nick Piecoro of AZ Central, Shelby Miller will return from his minor league stint to start on Wednesday against the San Francisco Giants. In eight starts with Triple-A Reno, Shelby Miller posted a 3.91 ERA with 55 strikeouts and 10 walks in 50 2/3 innings. — Nick Piecoro...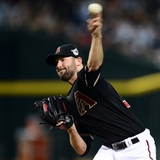 Robbie Ray has a 7-11 win-loss record and a 4.31 ERA. Neither is impressive. Some of his other numbers are. The Arizona Diamondbacks left-hander has a 3.53 FIP and his walks and strikeouts per nine innings are 3.2 and 11.2, respectively. His velocity is also notable. Ray's heater is averaging 93.9 mph and topping out at 97. Six weeks short of his 25th birthday, he's never thrown...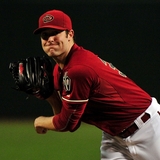 It's still sort of hard to fathom how quickly the league-wide strikeout spike snuck up on us. And after a one-year plateau between 2014 and 2015, they're back on the rise again. On the one hand, a statement like, "Present-day Robbie Ray would've been baseball's strikeout leader as recently as 2010" speaks volumes toward the current state of baseball and how much has changed just...
MORE STORIES >>
Diamondbacks News

Delivered to your inbox

You'll also receive Yardbarker's daily Top 10, featuring the best sports stories from around the web. Customize your newsletter to get articles on your favorite sports and teams. And the best part? It's free!