Eamon McAnaney, Ron Darling, and Keith Hernandez break down the Mets' 11-4 loss to the Yankees.
Wayne Randazzo, Ron Darling, and Todd Zeile break down the Mets' 9-5 victory over the Houston Astros.
Wayne Randazzo, Ron Darling, and Todd Zeile break down the Mets' 4-2 victory over the Detroit Tigers.
Gary Cohen, Ron Darling and Keith Hernandez break down the Mets' 6-2 win over the Braves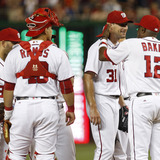 The New York Mets' TV announcers were oddly critical of Washington Nationals fans for not applauding Max Scherzer enough during Wednesday's game between the teams. The Nats won the contest 4-2 behind Scherzer's 7.1 innings of two-hit scoreless ball. Though the fans applauded and gave Scherzer a standing ovation as he came off the field during the eighth when he was removed for the...
Darling (L); Remy (R)Kirk Minihane—of WEEI's Dennis & Callahan Morning Show—is reporting (from two sources) that NESN is 'interested' in pairing Ron Darling (as color man) with new play-by-play man Dave O'Brien. Presumably, this would mean the departure of fan icon Jerry Remy from the NESN broadcast booth—likely to raise even more ire than the firing of Don Orsillo. Darling is...
Mets color commentator and pitching analyst, Ron Darling, will call seven of SNY's sixteen televised spring training games starting next month (Newsday). Darling asked executive producer Curt Gowdy Jr. about the role, and he decided to give Darling a chance at it. "I wanted the versatility," said Darling, an SNY analyst since 2006 and also Turner's lead MLB analyst. "I just asked...
1991 LEAF RON DARLING I spent an idle post-holiday hour thumbing through a 3,000-count box of cards this past Sunday morning. It was a box of no special report, containing mostly early '90s junk from a range of manufacturers, picked clean of any Jeter rookies or the like. But it can be so refreshing to spend time with a big brick of commons like this, as a quick portal back to an...
Bob Raissman of the Daily News caught up with Ron Darling who is extremely optimistic about the Mets outlook for the second half and is as excited about broadcasting Mets games now as he's been in many years. "Whether this all culminates in the postseason, I don't know," he said. "I do think there is going to be so much more positive than there has been the last few years." With...
In a harsh rebuke of the front office, New York Post columnist Mike Vaccaro points out how the Mets vowed in the spring of 2013 that this was going to be the year they blew the dust off their wallets and jumped back into the game, act like they own a team based in New York City, not Oklahoma City. "And, you know: act like True New Yorkers." The Mets, who are 1-6 since asking their...
MORE STORIES >>
MLB News

Delivered to your inbox

You'll also receive Yardbarker's daily Top 10, featuring the best sports stories from around the web. Customize your newsletter to get articles on your favorite sports and teams. And the best part? It's free!