We've updated our Privacy Policy.
By continuing to use this site, you are agreeing to the new Privacy Policy.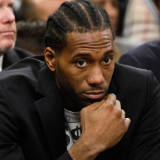 San Antonio Spurs players implored Kawhi Leonard to return to the lineup during a players-only meeting over the weekend, per a report from ESPN's Adrian Wojnarowski. Leonard, a two-time first-team All-NBA player (2016, 2017) and NBA Defensive Player of the Year (2015, 2016), has been limited to only nine games this season due to a nagging quadriceps tendinopathy condition. Numerous...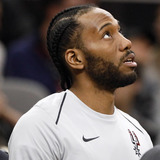 The Spurs held a players-only meeting following Saturday's win over Minnesota in an effort to implore Kawhi Leonard to return to the lineup, league sources tell Adrian Wojnarowski of ESPN.According to Wojnarowski, veteran guard Tony Parker "quarterbacked" the meeting, which saw several Spurs players expressing frustration and confusion over an apparent divide between Leonard and...
Manu Ginobili was candid on the possibility Kawhi Leonard returns to the San Antonio Spurs this season. San Antonio Spurs star Kawhi Leonard arguably became the mystery of the 2017-18 NBA season. It started with a mysterious quad injury before the preseason, only to follow with reports...
LIKE WHAT YOU SEE?
GET THE DAILY NEWSLETTER: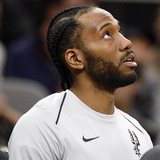 Having missed all but nine games this season to a quad injury he suffered in the 2017 Western Conference Finals, San Antonio Spurs forward Kawhi Leonard had been angling for a return some time this month. But as the calendar nears April and with the playoffs set to begin here soon, the odds of Leonard returning this season continue to dwindle.Just ask teammate Manu Ginobili, who...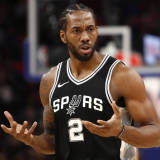 Manu Ginobili made a provocative statement on Wednesday concerning the anticipated return of teammate Kawhi Leonard: It's not going to happen.Ginobili's startling observation should come with a qualifier, however. It's not that the San Antonio Spurs legend is ruling out Leonard's return, which has been a matter of debate for months. Instead, Ginobili believes the Spurs holding out...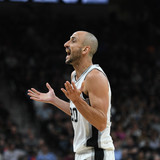 This particular season has been one of the most underwhelming for the Spurs since before the Tim Duncan era, and while the team hasn't gone out and said it publicly, it does appear that they're rebuilding a bit.Both Tony Parker and Manu Ginobili could be playing in their final seasons in the league, and the Spurs have been giving younger guys minutes, in preparation for life after...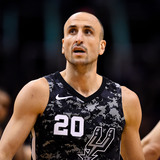 Manu Ginóbili knows it hasn't been an easy road for the San Antonio Spurs this season. But there's still just one goal in mind: reaching the playoffs."Halfway through the season we were aiming for the third spot. Now we are aiming for the playoffs."But head coach Gregg Popovich isn't in the business of making excuses."Quit your crying and just play. That's what we've done. Nobody...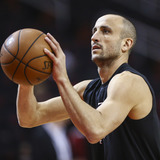 Manu Ginóbili is 40 years old, and has spent his entire 16-year NBA career with the San Antonio Spurs. Meanwhile, his Spurs are 27-14, and 5.5 games behind the Golden State Warriors. This is due at least in part to their road struggles, they're currently posting a 9-12 mark when away. However, this has nothing to do with Ginóbili's performance, and more specifically, his performance...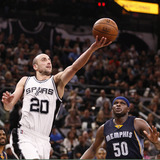 We knew Manu Ginobili was going to play at least one more season in the NBA. He announced that intention earlier in the summer. But until Thursday, it was not guaranteed that it would be with the San Antonio Spurs.We can now put that to rest.According to The Vertical's Shams Charania, the Spurs have re-signed the long-time guard to a two-year, $5 million contract.Ginobili, 40, has...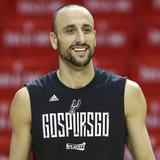 There was a time when no one wanted to watch the San Antonio Spurs play basketball. Ironically, this was also the same period of time when the other 29 teams in the Association were playing the ugliest basketball in the league's history. Before we allowed the science behind efficiency to smugly insert itself into the conversation about what makes good basketball, we relied on antiquated...
MORE STORIES >>
Spurs News

Delivered to your inbox

You'll also receive Yardbarker's daily Top 10, featuring the best sports stories from around the web. Customize your newsletter to get articles on your favorite sports and teams. And the best part? It's free!