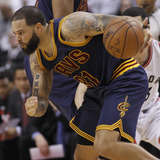 Deron Williams' tenure with the Cleveland Cavaliers was thoroughly forgettable, and apparently he feels the same way as well.In the latest episode of his "Road Trippin'" podcast, Cavs forward Richard Jefferson hinted to guest Dave McMenamin of ESPN that Williams did not exactly enjoy his time with the team: Jefferson: "When you ask Deron about golf, his eyes light up. When you ask...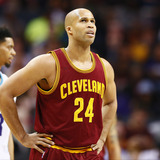 Good news, Cavaliers fans: Richard Jefferson will be back for another season.Jefferson announced on his podcast released Wednesday that he will continue playing rather than retire."I will be starting my 17th season next year, I am not retiring," Jefferson said on his "Road Trippin'" podcast.Jefferson had previously said on his podcast last month that he wasn't sure about his future...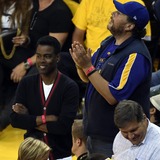 Chris Rock provided a stroke of comedic genius at Game 5 of the NBA Finals on Monday night.Rock was seated courtside for the epic matchup at Oracle Arena, and at one point, 36-year-old Richard Jefferson ended up on the floor right in front of him.The famous comedian then provided some sound advice, ribbing him about his age."I know you [are] old, man… stay down!" Rock joked. For...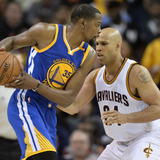 Cleveland Cavaliers forward Richard Jefferson is piling the pressure on the Golden State Warriors ahead of Game 5 of the NBA Finals.The two teams find themselves in a similar situation to last year, with the series returning to the bay area with Golden State holding a 3-1 lead. The Warriors ultimately blew that lead — and in Jefferson's mind, all of the expectation will be on them...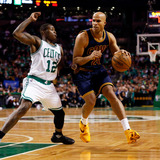 The Cleveland Cavaliers are definitely not in panic mode, even after being blown out by the Golden State Warriors in the opening game of the NBA Finals.Veteran forward Richard Jefferson was particularly bullish, telling reporters Saturday that the Cavs' gameplan did not require a major overhaul — simply some basic cleanup. "They shot 42 percent from the field," Jefferson said. "We...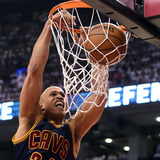 It appears that Richard Jefferson has leaked what the Cleveland Cavaliers' 2015-16 championship rings look like. Jefferson took to Snapchat on Tuesday and indicated that he would post "something as long as you promise not to show anyone else." Well, social media is for sharing, so when Jefferson snapped a photo of the Cavs' championship rings, users made sure to get a screencap...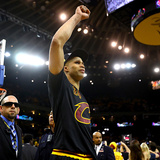 Fresh off earning the first NBA title of his career, Cleveland Cavaliers forward Richard Jefferson is reportedly retiring from the Association. Jefferson, 35, made his intentions known in the Cavaliers locker room following a dramatic Game 7 win over his former Golden State Warriors team in Oakland on Sunday. Per ESPN. "Amid the celebration in the Cleveland Cavaliers locker...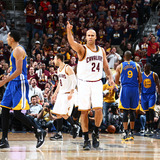 The funeral was being planned, with the eulogy for the Cleveland Cavaliers brewing after the team showed up to Oracle Arena resembling the Washington Generals in the first two games of the NBA Finals. The memes were pouring in, and there were crying Jordan faces perched on every social media outlet that had something to do with the demise of the Cavs. Basketball experts and strangers...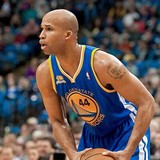 Richard Jefferson scores in a game against the Philadelphia 76ers. Jefferson has started every game for the Jazz this season. As the NBA season rapidly approaches its climax for the Utah Jazz, a multitude of questions arise for general manager Dennis Lindsey about who the Jazz should keep for next season, and who should be let go in the wake of one of the worst seasons in Utah Jazz...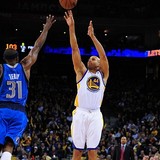 Richard Jefferson will play behind longest tenured jazz man Gordon Hayward (Photo credit: Desert News) After letting expensive players like Al Jefferson and Paul Millsap walk, and not-so-expensive ones like Demarre Carrol, the Utah Jazz needed some acquisitions to fill the roster. As a result they signed (or more accurately termed, 'rented') 3 players with 1 year left on their deals...
MORE STORIES >>
Nuggets News

Delivered to your inbox

You'll also receive Yardbarker's daily Top 10, featuring the best sports stories from around the web. Customize your newsletter to get articles on your favorite sports and teams. And the best part? It's free!