We've updated our Privacy Policy.
By continuing to use this site, you are agreeing to the new Privacy Policy.
More than a year after retiring from the NFL, former Broncos guard Evan Mathis is on the brink of landing a big pay day. An avid memorabilia collector, Mathis is selling a 1952 Topps Mickey Mantle PSA Mint 9 card through Heritage Auctions'  inaugural Sports Card Auction. Heritage estimates the card to be worth $3.5 million, which would set a record for the most expensive price ever...
Evan Mathis has a thing for the number 69. He's worn the number the past five years, when he started playing for the Eagles in 2011.The veteran guard recently signed a one-year deal with the Arizona Cardinals for $6 million. A nice chunk of change, but Mathis wanted just a little more.So he got just a bit more.But he didn't stop there. Mathis, who played for the Broncos last season...
TEMPE, Ariz. -- Evan Mathis says he thought about retiring from football after accomplishing the sport's ultimate goal, being part of a Super Bowl championship team."I wasn't sure at all," he said. "For a while, I was just riding the wave of winning the Super Bowl. I got to the point where I was OK going either way with it. I told myself that if the right opportunity came about,...
LIKE WHAT YOU SEE?
GET THE DAILY NEWSLETTER: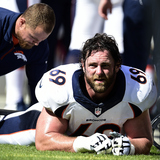 Evan Mathis will take over for recently traded offensive guard Jonathan Cooper, who was shipped by the Arizona Cardinals to New England in exchange for pass rusher Chandler Jones. Albert Breer of NFL Network is reporting Mathis has agreed to a one-year contract worth $6 million to play for the Cardinals this year. What a tremendous couple of moves. Many wondered how the Cardinals...
Tweet +1 Like Share Pin Reddit On a day when the Denver Broncos lost offensive tackle Ryan Harris and safety David Bruton, there is news that another key free agent from the...
If there's one professional athlete you absolutely need to be following on Twitter, it's Evan Mathis. The Denver Broncos' All-Pro guard goes against all conventional wisdom when it comes to how athletes, or any "celebrity" for that matter, interact on social media. Instead of lying low, staying out of his mentions and only posting safe, politically-correct opinions on his timeline...
Everyone is always looking for the secret to success. Some would call it hard work, some would call it studying, some would call it blood, sweat, and tears. Recently it seems that the secret was shared with new Denver Broncos offensive lineman  Evan Mathis. Well--to be more precise it wasn't so much the secret to success, but the secret to not failing.Do not wear your hat backwards...
  The Broncos bolstered their offensive line this afternoon, agreeing to terms with former Eagles G Evan Mathis on a one year contract. The highly coveted Mathis will immediately bolster the Broncos young offensive line and will likely start at left guard for the Broncos giving rookie Max Garcia more time to develop. Agreed to terms on a one-year deal with Pro Bowl G Evan Mathis...
J.D. and The Pro, as heard on The Press Box Insider on Mile High Sports AM 1340, think this could be one of the best Broncos teams in history, if they address the weaknesses at nose tackle and, most importantly, offensive line. The Pro says the o-line can be sufficient if it plays as a unit, but J.D. says the team should go after free agent guard Evan Mathis, who met with Seattle...
It's been over a month since the Philadelphia Eagles released their veteran Pro Bowl guard Evan Mathis, and it's to everyone's shock that the free agent is still available on the open market, particularly because of his résumé as one of the NFL's top offensive linemen over the past several years.However despite the lack of any public interest, there are still several reports being...
MORE STORIES >>
NFL News

Delivered to your inbox

You'll also receive Yardbarker's daily Top 10, featuring the best sports stories from around the web. Customize your newsletter to get articles on your favorite sports and teams. And the best part? It's free!