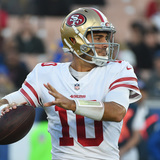 Former San Francisco 49ers quarterback Jeff Garcia is a fan of the team's current signal caller, Jimmy Garoppolo. He previously suggested that the team sign Garoppolo to a five-year deal. Now, in light of Alex Smith's recent trade to the Washington Redskins (and subsequent extension), Garcia has upped his opinion.Speaking on 95.7's "The Greg Papa Show," Garcia made it known that...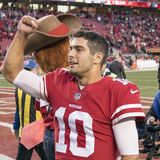 When the season ends, the San Francisco 49ers could simply apply the franchise tag to quarterback Jimmy Garoppolo to secure him for 2018.But speaking on the "49ers Insider Podcast" with Matt Maiocco of NBC Sports Bay Area, former 49ers' quarterback Jeff Garcia noted that he thinks a long-term contract is more appropriate."I say you have to lock it in for five years and build around...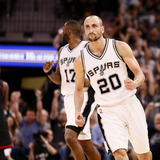 One Argentina sports great appears to be breaking some news about another.In an interview with Argentinian outlet Clarin that was published on Tuesday, soccer legend Diego Maradona commented on San Antonio Spurs guard Manu Ginobili's plans for the future."Manu is very close to me," said Maradona, per Jeff Garcia of News 4 San Antonio. "It is not known yet, but he's staying two years...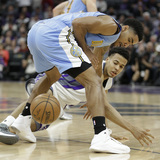 Want more news first thing in the day? Sign up for the Yardbarker Morning Bark newsletter here.Good morning and welcome to the YB Box Score, what we're reading while waiting for our NBA trade papers to show up at day late and a dollar short.Happy birthday to Phil Knight, Mike Fratello and Jeff Garcia. On this date in 1980the U.S. Olympic hockey team defeated Finland 4-2 to win the...
Former Pro Bowl quarterback Jeff Garcia has been looking to make a profession out of this whole coaching thing for some time now.After stepping away from the game in 2011, Garcia headed north to be the Montreal Alouettes quarterbacks coach in 2014. He then caught on as an offensive assistant for the St. Louis Rams in their final season before moving to Los Angeles.Needless to say...
Can you name the 10 NFL quarterbacks who amassed the most passing yards while playing for the San Francisco 49ers?Clue: Number of passing yards
Jeff Garcia, a former NFL quarterback best known for his years with the San Francisco 49ers, has been hired on as an offensive assistant by the St. Louis Rams. Jim Thomas of the St. Louis Post-Dispatch broke the news, noting Garcia was in play for the Rams earlier this year as the team's quarterbacks coach. Garcia didn't land that gig, but head coach Jeff Fisher was impressed enough...
Nine years ago, Jeff Garcia was the starting quarterback for the Cleveland Browns. And at that point, Garcia was considered to be old. He was 34 and beyond his prime, and he posted a shabby passer rating of 76.7 while losing eight of his 11 starts under center.  Nearly a decade later, the Browns quarterback situation is no more stable. Brandon Weeden is the NFL's third-lowest...
MORE STORIES >>
NFL News

Delivered to your inbox

You'll also receive Yardbarker's daily Top 10, featuring the best sports stories from around the web. Customize your newsletter to get articles on your favorite sports and teams. And the best part? It's free!