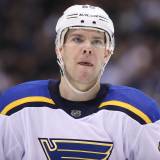 After a month of lead up, a sprinkling of trades over the last week or so, and a wild deadline day today, NHL teams are done with transactions for the 2017-18 NHL season. Here are the deals that improved contenders in the Western Conference:Deadline DayWinnipeg Jets receive:F Paul StastnySt. Louis Blues receive:F Erik Foley2018 first-round pickConditional 2020 fourth-round pick-...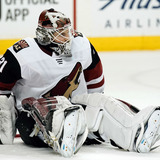 After acquiring him this week, the Los Angeles Kings have placed goaltender Scott Wedgewood on waivers according to Chris Johnston of Sportsnet. Wedgewood was part of the package acquired in exchange for Darcy Kuemper, but immediately seemed extraneous after the Kings recalled Jack Campbell. After acquiring him this week, the Los Angeles Kings have placed goaltender Scott Wedgewood...
Arizona Coyotes goaltender Scott Wedgewood discusses starting tonight vs the Los Angeles Kings and his dad being in town.
Coyotes goalie Scott Wedgewood talks about an "upsetting" night in San Jose in which a resilient Arizona team fell in OT to the Sharks.
Goaltender Scott Wedgewood talks about his expectations as he prepares to make his Coyotes debut in the fourth game of Arizona's five-game road swing.
Goalie Scott Wedgewood, recalled to the Devils as an emergency callup from Binghamton, talks about being acquired by the Coyotes hours before an Arizona-New Jersey matchup.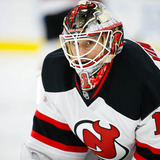 New Jersey Devils goalie Keith Kinkaid is part of a contest where fans have the opportunity to custom design his equipment for the 2016-17 NHL season. While submissions are still being accepted, it may not be worth the time or effort. Why? Because Devils center Adam Henrique may have come up with such a fantastic concept that it's unlikely to be outdone. As most pop culture aficionados...
The New Jersey Devils will start rookie goaltender Scott Wedgewood tomorrow night versus the Pittsburgh Penguins as the Devils look to get back on track.
Gotta support the team. New Jersey Devils goalie prospect Scott Wedgewood, currently playing in the team's Albany Devils in the AHL, has paid homage to David Puddy by featuring the "Seinfeld" character on his mask. The impressive work was done by renowned goalie mask artist David Gunnarsson, who posted an image of his handiwork to his official Instagram page. The reference...
Pretty much the first thing New Jersey Devils prospect Scott Wedgewood thought of when he heard he was being drafted by the NHL team was Seinfeld character David Puddy's turn as a rabid "Devils! Devils!" fan on the popular TV show. Now currently with the Albany Devils, Wedgewood is paying homage to the show with a mask design that features the legendary Seinfeld character's...
MORE STORIES >>
Kings News

Delivered to your inbox

You'll also receive Yardbarker's daily Top 10, featuring the best sports stories from around the web. Customize your newsletter to get articles on your favorite sports and teams. And the best part? It's free!