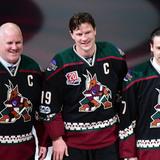 2017 has been quite a busy year in the hockey world. There have been several big trades, the first expansion team in over 15 years and much more. Over the coming days, PHR will take a look back at the top stories from around the game on a month-by-month basis. Next up is a look at the relatively slow month of August.Post-graduate studies: After the frenzy that is the beginning of...
From the day he was drafted until the day he retired, Shane Doan personified everything the Arizona Coyotes stand for. Take a look back at his record-setting career with the franchise.
Coyotes captain Shane Doan lists some of his personal preferences for the off-season.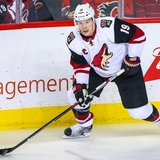 Coyotes captain Shane Doan explains his unique relationship with rookie Christian Dvorak.
Coyotes captain Shane Doan sits down with Jill Galus to discuss the season, the emotional finale, his future and more.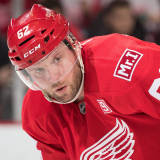 The NHL trade deadline is nearing, and this typically festive time of the season appears a bit more quiet and tame than usual. These couple of weeks ahead of the deadline are usually bubbling to the brim with rumors, until everything explodes on D-Day in a sea of fake Twitter accounts and out-of-left-field type deals. Yet here we sit, with very few trade rumors and announcements...
GLENDALE, Ariz. -- Mike Smith watched three goals go in the net behind him. Only two counted, setting up an impressive return to Gila River Arena.Shane Doan scored with 1:31 left, Smith stopped 27 shots in his first home game in nearly four months and the Arizona Coyotes took advantage of two disallowed goals to beat the San Jose Sharks 3-1 Thursday night."It was hard for them to...
Scoring two goals in less than a minute is one of those rare treats that hockey has to offer. Three goals in less than a minute? There's a better chance of catching a lunar eclipse than seeing three markers scored so close together. But such was the case for Arizona Coyotes fans on the Tuesday night, who got to witness three goals scored in a whopping 21 seconds. James van Riemsdyk...
MORE STORIES >>
Coyotes News

Delivered to your inbox

You'll also receive Yardbarker's daily Top 10, featuring the best sports stories from around the web. Customize your newsletter to get articles on your favorite sports and teams. And the best part? It's free!