Found January 31, 2013 on IT IS HIGH, IT IS FAR, IT IS caught:
Here's one possible solution to our latest A-bomb:If Alex is really out the door in 2013 - the first half season healing from surgery and the second half suspended by Commissioner Hairpiece - maybe Brian Cashman should abandon his Hobbit-like quest for a DH and hand that spot to Kevin Youkilis.Seriously, did anyone figure Youk could last a whole year playing third? For starters, he's got his own health issues. Think of Youkilis at third and Derek Jeter at shortstop, and you can imagine a lot of ground balls rolling into left field.Maybe Jeet should be our 3B.Can he play it? Of course. Would he move? He's always put the team first. Playing 3B would put less wear-and-tear on his broken ankle. A change now might extend his career two extra years. He might hit more. Youkilis can spell him at 3B and also back up at 1B. This would spare Jeter that eventual day of reckoning when his SS play is killing the team. Hey, he cannot stay young forever. Sorry, folks, but who wants a 39...
Original Story:
http://johnsterling.blogspot.com/2013...
THE BACKYARD
BEST OF MAXIM
RELATED ARTICLES
2013 Fantasy Preview: New York Yankees So, the Yankees want to stick to a payroll of around $200 million, with a couple of slap hitters in the outfield corners, some non-hitters behind the plate, and Alex Rodriguez expected to miss half the season. This should be interesting. Offseason moves: Re-signed OF Ichiro Suzuki Ichiro picked up his pace after being traded to the Yankees...
There has been speculation that the New York Yankees will attempt to void third baseman Alex Rodriguez's remaining contract due to use of performance-enhancing drugs and his hip injury. However, the team knows there is little chance of voiding Rodriguez's contract, an act termed "unrealistic" by David Waldstein of The New York Times. The Yankees can dream of getting...
According to a report by Bill Madden, Christian Red and Teri Thompson of the New York Daily News, Alex Rodriguez's Yankees career could be over. Alex Rodriguez is unlikely to ever wear the pinstripes again, sources familiar with the Yankees' situation with their troubled third baseman told the Daily News, no matter what happens regarding new allegations that he is again involved...
From the NY Daily News:Alex Rodriguez is unlikely to ever wear the pinstripes again, sources familiar with the Yankees' situation with their troubled third baseman told the Daily News, no matter what happens regarding new allegations that he is again involved with performance-enhancing drugs. According to numerous baseball sources, the hip surgery Rodriguez is now recovering...
If Major League Baseball disciplines Alex Rodriguez over the latest PED allegations against him, the New York Yankees may try and void the embattled third baseman's hefty contract. A source tells ESPNNewYork.com, "(The Yankees) can't do anything until the MLB investigation is concluded and they take action, if any." However, several sources tell the website that...
The New York Yankees have a deal in place with free agent designated hitter Travis Hafner, according to Chad Jennings of The Journal News. Jennings says Hafner's new deal with the Yankees is being finalized and could be announced as soon as today. It's a one-year contract which guarantees the veteran slugger in the range of $2 million, according to Ken Davidoff of...
A bombshell investigative report from a Miami newspaper has accused New York Yankees third baseman Alex Rodriguez of using performance-enhancing drugs as recently as last season, leading to questions about his immediate future and his lasting legacy. "The news report about a purported relationship between Alex Rodriguez and Anthony Bosch are not true," Rodriguez's...
The man Major League Baseball and Drug Enforcement Administration agents have accused of peddling performance-enhancing drugs — and have linked to New York Yankees star Alex Rodriguez — is a native New Yorker and lifelong Mets fan. Anthony Bosch — who is suspected of supplying the PEDs to A-Rod and as many as 20 professional athletes — grew up in Queens before he moved to...
Supposedly, the Yankees are on the verge of signing Travis "Pronk" Hafner - the former Cleveland DH who Miguel Cabreraed us once, long long ago, in a galaxy far far away -- a strikeout/home run guy who hasn't done Steve Whitaker in the last two years.And you thought we learned from Andruw Jones? (Insert sigh here.)Listen: I have no truck with Brian Cashman jiggling...
Alex Rodriguez is denying allegations that he received performance-enhancing drugs from Anthony Bosch's Biogenesis company, but the evidence against him is mounting. On Tuesday, the Miami New Times reported that A-Rod was one of many MLB players who ordered performance-enhancing drugs (in many cases testosterone) from the now-defunct Biogenesis company. Their report was based on...
Andy Pettitte is out, but Justin Verlander might be in. Pettitte bowed out of the World Baseball Classic leaving an open spot on the U.S. squad that is in need of another starting pitcher. And according to CBSSports.com, Verlander "would love to be on the team." Verlander is expected to make a decision by Feb. 20. The final decision is based on how Verlander progresses...
Reports from ESPN New York indicate that the Yankees have begun to explore ways to void third baseman Alex Rodriguez's contract in the wake of his connection to a "wellness clinic" in Miami, which reportedly supplied athletes with PEDs, including human growth hormone (HGH) and other substances banned by MLB. Rodriguez's name appears in the records of Anthony Bosch, the nutritionist...
MLB News

Delivered to your inbox

You'll also receive Yardbarker's daily Top 10, featuring the best sports stories from around the web. Customize your newsletter to get articles on your favorite sports and teams. And the best part? It's free!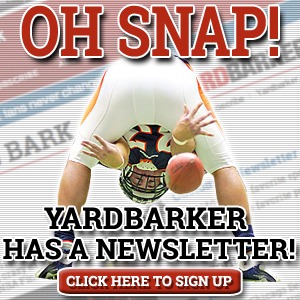 Latest Rumors
Best of Yardbarker

Today's Best Stuff

For Bloggers

Join the Yardbarker Network for more promotion, traffic, and money.

Company Info

Help

What is Yardbarker?

Yardbarker is the largest network of sports blogs and pro athlete blogs on the web. This site is the hub of the Yardbarker Network, where our editors and algorithms curate the best sports content from our network and beyond.