Found February 15, 2013 on IT IS HIGH, IT IS FAR, IT IS caught:
Dear Madam or Sir,I think it was Charles Dickens who said, when you're standing on the gallows, and the noose tightens around your windpipe, it's too late to say your sorry. The Mumford mob doesn't want to hear that you've changed your mind, you'll now support Justin Beiber for the Grammy. No, sir. They're in for some entertainment, and they're no going home without a show. It's too late. Yesterday, you told the Gammonite world that you'll always be a Redsock. Oh, there's that little thing about the Yankee uniform and the NY on the cap, all those minor details. But don't worry, in your heart, you'll be bleeding Schilling red. Well... OK, fine. I get loyalty. What I can't understand is stupidity. Do you really think the Fenway mob is going to be appeased? Or that the Yankiverse will ever be trusting?This is not to suggest you put on a Yankee cap and immediately start trashing your old teammates - (who, by the way, have been scattere...
Original Story:
http://johnsterling.blogspot.com/2013...
THE BACKYARD
BEST OF MAXIM
RELATED ARTICLES
New York Yankee fans need to relax, big time! Kevin Youkilis (Photo credit: Keith Allison) Kevin Youkilis might play for the Yankees, but he will forever be a Boston Red Sox in my mind. So earlier this week when Youkilis told ESPN New York, "I'll always be a Red Sox," personally, I found it refreshingly honest. The problem is a majority of Yankees Universe did not. Shocker...
$12 million for one season doesn't buy what it used to. Kevin Youkilis, who will make more in 2013 than David Wright will, made his New York Yankees debut Thursday. And he promptly announced his loyalties to his old Boston Red Sox team, saying "I'll always be a Red Sock." Oh, great.I couldn't stand Youk -- I call him Yuck -- as a Red Sock, and the fact that he...
It's no surprise on the day former Red Sox third/first baseman Kevin Youkilis reported to Yankees spring training the first words out of his mouth to the media were about the Red Sox. What may surprise you to know is that those words were spoken with high regard for his former organization. Youkilis spent 9 years with the Red Sox organization (2004-2012) and was a vital member...
Kevin Youkilis' new teammates were waiting to razz him when the third baseman walked into the New York Yankees clubhouse.
 He is still the ace, the cornerstone, the man the Yankees must have in the rotation if they are going to remain competitive in the vastly improved AL East. The Associated Press reports that  C.C. Sabathia, 32, threw off a mound on Saturday for the first time since arthroscopic surgery last October 25. With spring training instructor Billy Connors, pitching coach Larry ...
It's been nearly nine months since Mariano Rivera tore his ACL shagging fly balls during practice in Kansas City and, if his injured right knee is as up to snuff as his attitude, fans need not worry about seeing No. 42 shattering bats again this season. Wearing a "small, light brace" over the knee, the future Hall of Famer showed off for reporters by throwing 25 bullpen...
I can't remember a spring training when I was this cynical about the Yankees' prospects for the season. World Series or bust? Really? More like $189M or bust.That's what happens when you have a disastrous offseason like this one. I mean, really -- what Brian Cashman moves, exactly, excited you this winter? Signing the injury-ridden ex-Boston Red Sox Kevin Youkilis for...
Alex Rodriguez — who is already getting enough press for his alleged involvement with performance-enhancing drugs — is happy to know that a long awaited book about the New York Yankees slugger's  life has been shelved by its publisher. A source told The New York Daily News that A-Rod thinks it's great that a book about him, being written by Pulitzer Prize-winning author...
One of the finest football coaches of all time, Vince Lombardi once said, "Confidence is contagious. So is lack of confidence." English: Joe Girardi, manager of the New York Yankees. (Photo credit: Wikipedia) Just think about how many times the heavily favored team gets defeated by the less talented underdogs. -        Super Bowl XLII – recently ranked as the best Super...
This guy is a Yankee. And it's weird. (Photo courtesy of Flickr) Things in Tampa continue to heat up. Youk arrived yesterday and already stirred up the fan base by saying he will "always be a Red Sock." I think if we resist the knee-jerk reaction to overreact, we can understand where he's coming from, but it was still an interesting choice of words on his first day in pinstripes...
Yankees News

Delivered to your inbox

You'll also receive Yardbarker's daily Top 10, featuring the best sports stories from around the web. Customize your newsletter to get articles on your favorite sports and teams. And the best part? It's free!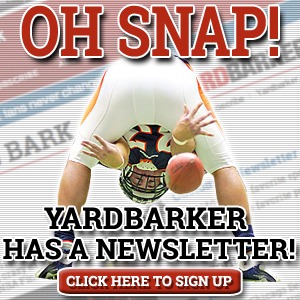 Latest Rumors
Best of Yardbarker

Today's Best Stuff

For Bloggers

Join the Yardbarker Network for more promotion, traffic, and money.

Company Info

Help

What is Yardbarker?

Yardbarker is the largest network of sports blogs and pro athlete blogs on the web. This site is the hub of the Yardbarker Network, where our editors and algorithms curate the best sports content from our network and beyond.