Well, the New York Yankees are at a crossroads.
And that was well before Mariano Rivera tore the ACL and meniscus in his right knee.
I was talking with Mike this week and saying how this Yankee team was in a situation of seriousness. They have a veteran team, aging superstars and aging bench players. Before Jayson Nix and DeWayne Wise were promoted, guys like Andruw Jones and Raul Ibanez were playing every day in the outfield. Two guys that weren't signed this season to play every day.
This is an aging and expensive team in a young man's game. And the team is only getting more aged and will be getting more expensive.
So, these Yankees are at that crossroads and there are several reasons for this.
First, is the exhorbitant salaries paid to players whose careers are on the decline. You see the decline already. Alex Rodriguez and especially Mark Teixeira are in their decline phases of their careers, former top of the line talent now slowly sinking down the rope to the floor below. Yes, they will have the occasional big game here and there, but each guy is not the scary run producer they were several years ago. Teams are pitching to them, challenging them and more often than in the past, the pitcher's are winning those challenges.
Two guys, who play the infield corners for the Yankees, earning a total of $51.5 million this year, are in slow to moderate declines. They are owed a combined $204 million over the next 4/5 years. I bet the Kansas City Royals wouldn't trade their current infield corners, Mike Moustakas and Eric Hosmer (who had all four RBI in Thursday's game) for Alex and Teixeira, even if the Yankees paid upfront to the Royals all of Alex and Teixeira's salaries for balance of their careers.
Second reason is the self-imposed salary cap of $189 million for 2014.
It is this number which the Yankees owners have said they want the team payroll to be in 2014. This number will allow the Yankees to avoid huge luxury tax monies required to be paid to MLB. They could even get a rebate if they remain under that amount for 2015 also.
With the $78 million tied up in Alex, Teixeira, CC Sabathia and Derek Jeter ($8 million player option) for 2014, the Yankees would "only" approximately have $111 million available for 21 other players. And they still have to re-sign Curtis Granderson, Robinson Cano to extensions likely to cost $15 million each on an annual basis. Then by 2014, players such as Joba Chamberlain, Brett Gardner, Phil Hughes, David Robertson, Eduardo Nunez and Ivan Nova will all be eligible for arbitration or will try to be be locked up for "below market" multi-year contracts.
That's a lot of players important to the roster who will be making mucho more cash.
Third, the Yankees will very likely lose Russell Martin and Nick Swisher to free agency after this year. During every long Yankee run of titles, the team has a high quality catcher and right fielder. The Yankees have had such a history at catcher with Wally Schang (an OBP machine), Bill Dickey, Yogi Berra, Elston Howard, Thurman Munson and Jorge Posada. In right field they had Babe Ruth, Bob Muesel, Tommy Henrich, Hank Bauer, Roger Maris, Reggie Jackson and Paul O'Neill.
Both Martin and Swisher will likely command three year deals for $8-12 million per year. That might be too rich even for the 1% Yankees. Two important starters in highly Yankee-fabric positions of catcher and right fielder need to be replaced.
Where wil they turn for these players?
These open spots lead to the fourth reason the Yankees are at a severe crossroads. They have a severe lack of quality position player depth at their higher levels of the system. They have ZERO, repeat ZERO help on the way to fill any open starting position players for at least the next two seasons.
And I hope you aren't saying to yourself, what about Zoilo Almonte, who impressed the spring training? Well, he wasn't that good the first time playing at Double A, and it is a stretch to see him seriously contributing at the major league level until at least 2015. Other strong players such as Austin Romine (remember him?), and David Adams, are always hurt, with Romine having chronic back issues. That isn't good for a major league starting catcher.
Plus, I always thought Romine wasn't a franchise type to carry a World Series type team.
All the other top position players are three years away, and with the Yankees patient nature, it may be even longer – if the kids like Mason Williams, Tyler Austin and Gary Sanchez even get the opportunity.
Yankee fans are now suffering through injuries, lack of production and, even though the playoffs were expanded, a feeling that they just might not be strong enough to make the postseason, let alone make a run to the World Series. New York fans, in particular most Yankee fans, have what have you done for me now relationship with their players.
Many have written that maybe the Yankees should have traded Gardner before last season when his value was highest; saying his success in 2010 was never going to be improved upon. But now they miss his OBP skills, speed and quality defense on an everyday basis.
After Swisher struggled again last October, almost all Yankee fans wanted to trade Swisher this past off season. But you see how Swisher and Gardner are important to the Yankee lineup. Along with Jeter, they are the only two other Yankee hitters who consistently go the away with pitches, opening up the field and therefore, getting more hits.
Now these same Yankee fans seriously wish both could come back from their injuries quickly.
What the Yankees have done by playing the Ponzi scheme method of long term deals to players who are now aged and much less productive is coming home to roost. Combined with a lack of quality young (and low cost) replacements, the Yankees are stuck.  Dead money for guys, who aren't producing now, who will continue to decline. And because of their salaries, they would be blocking any young players the organization might develop.
So, what to do?
The Yankees could continue with what they have always done and go with the veteran presence at most positions, eschewing young talent in their system and paying big dollars to players who are getting older, and will decline over time. You know, trying to win now at all costs.
Let's all admit it right now; the 2009 World Series title was bought with shelling out $400 million to Sabathia, Teixeira and AJ Burnett. It sucks that the rules were changed in the middle of playing the game, and the luxury tax threshold was inserted, but that is the new game MLB is playing.
But the key for any team is to constantly work in young players with established veterans, letting certain veterans go free agent when they have kids ready for the majors. But the Yankees have not produced enough young players or given them a serious chance before pulling them, benching them or having fans ridicule them every time they make a mistake like Nunez.
I say continue with letting David Phelps get starts, Nunez should get more time in the field at all positions and let Phil Hughes continue to start. Even with Mariano out, there isn't a great need in the bullpen. Let the guys already down there work things out. You have two capable guys at the back end with Robertson and Rafael Soriano, and even though I thought he would not as effective this season, Cory Wade has been prety darn impressive again. This biggest cost factor in baseball is paying for starting pitching and the Yankees really need to find out if Hughes and Phelps can be a better than average starting pitchers.
Hughes has been bumped around on the Joba-train for a few years now and combined with injuries hasn't really received a full shot at starting. And the way the Yankeees dealt with him in the minor leagues, he hasn't built up durability. Hughes has made 76 career starts and pitched 7+ innings only 12 times. The Yankees need to find out if they can save free agent type money by letting their pown kids play and produce.
 The only way the Yankees survive is letting their kids play and develop. You know how the other way works now.
As for the current veteran presence, Alex and Tex are now what they are, Jeter seems resurgent and CC will still provide long term benefits. Cano and Granderson are two big issues. Scott Boras will likely want big, big money for Cano, even if Cano struggles for the next two seasons and appears to not be the same player he was in 2010 and 2011. Unless Cano takes a lesser term deal like 4 years, the Yankees have to let him walk. Same with Granderson. Whoever takes the first 4-5 year deal put on the table gets his Yankee money.
Unless of course, the Yankees decide to not hold themselves to the $189 million self-imposed cap, which is a possibility if the fan base starts to whine. But if opnership holds the line on payroll and veterans start leaving, it could be the late 1960s all over again.
Horace Clarke anyone?
Original Story:
http://nybaseballdigest.com/2012/05/0...
PLAYERS:
Mariano Rivera
,
Jayson Nix
,
DeWayne Wise
,
Andruw Jones
,
Raul Ibanez
,
Alex Rodriguez
,
Mark Teixeira
,
Mike Moustakas
,
Eric Hosmer
,
CC Sabathia
,
Derek Jeter
,
Curtis Granderson
,
Robinson Cano
,
Joba Chamberlain
,
Brett Gardner
,
Phil Hughes
,
David Robertson
,
Eduardo Nunez
,
Ivan Nova
,
Russell Martin
,
Nick Swisher
,
Yogi Berra
,
Jorge Posada
,
Babe Ruth
,
Hank Bauer
,
Zoilo Almonte
,
Austin Romine
,
David Adams
,
Mason Williams
,
Tyler Austin
,
Gary Sanchez
,
AJ Burnett
,
David Phelps
,
Rafael Soriano
,
Cory Wade
,
Scott Boras
TEAMS:
New York Yankees
,
Kansas City Royals
,
Pittsburgh Pirates
MORE FROM YARDBARKER
MLB News

Delivered to your inbox

You'll also receive Yardbarker's daily Top 10, featuring the best sports stories from around the web. Customize your newsletter to get articles on your favorite sports and teams. And the best part? It's free!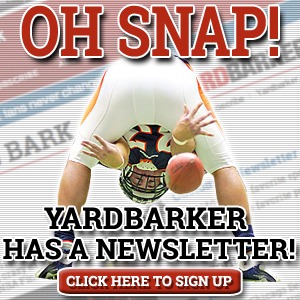 Latest Rumors
Best of Yardbarker

Today's Best Stuff

For Bloggers

Join the Yardbarker Network for more promotion, traffic, and money.

Company Info

Help

What is Yardbarker?

Yardbarker is the largest network of sports blogs and pro athlete blogs on the web. This site is the hub of the Yardbarker Network, where our editors and algorithms curate the best sports content from our network and beyond.