Found December 07, 2012 on Ted's Army:
PLAYERS:
Brian Cashman
,
Kevin Youkilis
,
Joba Chamberlain
,
Alex Rodriguez
,
Johnny Damon
,
Carl Crawford
,
Adrian Gonzalez
,
David Ortiz
,
Mike Napoli
,
Shane Victorino
TEAMS:
New York Yankees
,
Chicago White Sox
,
Boston Red Sox
,
Cleveland Indians
,
Los Angeles Dodgers
Every morning, we compile the links of the day and dump them here... highlighting the big storyline. Because there's nothing quite as satisfying as a good morning dump. The final act of Brian Cashman's dormant week at the winter meetings was to assure the baseball world, through his words and a $12 million contract offer to Kevin Youkilis, that the Yankees were still capable of George Steinbrenner-style spending. But those assertions did not speak as loudly as what emerged later — a one-year, $12 million offer to Kevin Youkilis, the former Boston third baseman and first baseman, and a key part of the Red Sox-Yankees rivalry for many seasons. A few seasons ago, Yankees reliever Joba Chamberlain more than once threw in the direction of Youkilis's head for no apparent reason other than that Youkilis was being Youkilis, a tough, determined competitor with an unusual way of holding his bat, a great ability to foul off pitches and, more than anything, an ability to hit for both average and power. If he is healthy, he would be an acceptable solution at third base until the injured Alex Rodriguez is ready to return. And if he accepts the Yankees' offer, it will no doubt dismay Red Sox fans, who devotedly bellowed "Youk" year after year and still have not forgiven Johnny Damon for bolting Fenway Park for the Bronx in 2006. NY Times - Back to Old Spending Ways, Yanks Offer Youkilis a Deal A very large part of me (let's call it my brain) is actually hoping Youkilis does sign with the Yankees.  A smaller part of me (heart) wants to see Youk reunited with Tito in Cleveland.  That would be fun to watch. But I want him in pinstripes.  Even with the addition of Napoli and Victorino, I look at the Sox roster and don't see a contender.  I'm fully prepared to sit out the next two post-seasons.  So if I can't enjoy the Sox winning, I certainly will be able to enjoy further implosions in New York.  Youkilis can make that happen. First and foremost, as a resident of the great state of New York, I have many many friends who happen to be Yankee fans.  Unfortunate, but unavoidable.  These friends have nearly unanimously declared Kevin Youkilis as the most-hated Red Sox for the better part of a decade.  Now he may be their third baseman.  Now they have to root for him.  It's going to be awkward.  And I'm going to love every single second of it. Also in the 'burn it down' department, I hope Youkilis has a fantastic start to the season.  I want to see him ripping the cover off the ball.  Because when A-Rod comes back, and wants to take his rightful place at third (well, rightful except when it matters, like the post-season), I want to see confusion, chaos, and panic at Yankee Stadium.  I want to see Yankee fans demand that Youkilis keep his job.  I want the already-scorned A-Rod to be pushed even further down the Yankees totem pole. I want to see Yankee fans donning glued-on goatees and holding paper syringes while A-Rod is in the on-deck circle. I just want to sit back and laugh. Of course, New York will just end up rotating players at third and DH.  There won't be any metaphoric mushroom clouds rising above the Bronx.  But if Youkilis goes become a Yankee, I won't hold a grudge.  I won't boo him.  I will sincerely hope him nothing but success. Because the side-effects of Youkilis succeeding as a Yankee, at least in my imagination, are going to make for one hell of a fun Spring.  Especially if he punches Joba Chamberlain in his stupid fat neck.  If nothing else, this needs to happen. On Page 2, Papi likes the Sox new additions. "Yeah, man, we're getting good players," said Ortiz, the recipient of a two-year, $26 million contract extension last month. "That's what it's all about. That's how you win games." "Power is hard to find right now," Ortiz said. "Whenever you get a power hitter, you've got to keep him. In today's day, Napoli is one of those guys. And of course, you need guys that are game-changers, and he's one of them. It's going to be fun to watch. It's going to be fun watching Napoli hit balls over the Monster." "I think the American League is overran with good left-handed pitching," Ortiz said. "I think we're going to have a lot of lefties coming in. Even before last year, when we went and got (lefty-hitting Carl Crawford) and (Adrian Gonzalez), we had a lot of left-handers in the lineup. Teams won't be putting that many lefties against us now." "He's my boy," Ortiz said of Victorino. "He's going to be a guy that people are going to love in Boston. He goes at it hard. And he's got a lot of adrenaline going on. I love that. That gets me going." Herald - David Ortiz endorses Red Sox' additions of Mike Napoli, Shane Victorino If it's good enough for Papi, it's good enough for me. OK, except maybe for Victorino.  That one still has me scratching my head.  Even if he does "go at it hard" which "gets Papi going". Rest of the links: Herald - Plenty on Sox' to-do list | Kevin Youkilis happy to be free | Rule 5 draft scores Roxbury Latin alum | Globe - Winners, Losers from MLB Winter Meetings | Red Sox like their moves, but not everyone does | WEEI - Hazen: Sox still engaged on Hamilton | Sox get Kaminska to complete Stewart deal | Now what do they do? | Stacking chips: Still in need of pitching, Red Sox positioned to deal | CSNNE - The right approach | Francona: '08 was the best team I had in Boston | Wakeup Call: Are the Yankees knocking on Hamilton's door?
Original Story:
http://www.tedsarmy.com/blog/2012/12/...
THE BACKYARD
BEST OF MAXIM
RELATED ARTICLES
Not Cashman? Are the Yankees brass pulling another Rafael Soriano type move here? There was also an article by Joel Sherman in today's New York Post where he says that George Steinbrenner and the old Yankees brass would never pass up on the chance of getting Josh Hamilton in Pinstripes, which is very true. It will be interesting to see how this whole thing plays out.
Once his baseball career is over, Curtis Granderson could have a future in sumo wrestling. During his stay in Japan — as part of the MLB International Ambassador Program — Granderson started sharpening his sumo wrestling squats alongside a professional and tweeted a picture for the world to see. In addition to working on his form, the Yankees center fielder also attended sumo...
Andruw Jones has reached an agreement with the Rakuten Golden Eagles on a one-year deal worth about $3.6 million to play in Japan, Nikkansports.com reported Friday. If the report is accurate, Jones would become one of the biggest Major League Baseball stars to play in Japan. Jones, 35, hit just .197 with 14 homers and 34 RBIs in 233 at-bats for the Yankees last season. Jones...
This offseason has been rather un-Yankee-like. That doesn't mean the Bronx Bombers should be ruled out of anything, though While the Yankees have been relatively quiet thus far, even losing out on guys like Jeff Keppinger, New York is apparently still doing its due diligence on perhaps the biggest fish in free agency. According to USA Today's Bob Nightengale, the Yankees are...
The Winter Meetings will come to a close today and, if all things remain the same, the Yankees will have signed and/or traded for no one.It's been a disappointing week for Yankee fans. Yesterday was especially disappointing, as Eric Chavez and Jeff Keppinger, two players who were looked at as a third base platoon in 2013, signed with the Diamondbacks and White Sox respectively...
Tweet   During his 17-year career Andruw Jones has spent time with the Atlanta Braves, Los Angeles Dodgers, Texas Rangers, Chicago White Sox, and most recently the New York Yankees. According to Nikkan Sports Jones has decided to continue his playing career overseas, signing a one-year deal with the Rakuten Golden Eagles estimated to be [...]
The Yankees have put money on the table if he wants it -- a one-year deal for $12 million.I wouldn't boo him if he did it. Would you?
Today is the final day of the Winter Meetings down in Nashville, and BronxPinstripes will be providing continuing coverage all day, so make sure to check back for updates on news and rumors! Update 10:00 AM: The biggest news so far today revolves around former Yankee enemy Kevin Youkilis. In what has become a shrinking third-baseman market, the Yankees are turning to Youkilis to...
              Many know of Bobby Brown as a former MLB player who got his doctorate in cardiology as well as serving a term as American League President long after his baseball career. Bobby, of course, was a member of the second (or third if you consider 1923, 1927, 1928 and 1932 one) major dynasty of the New York Yankees.     Brown, who had ended his playing career...
Free agent third baseman Kevin Youkilis is sitting on a fairly lucrative offer from the New York Yankees, one that would net him $12 million for the 2013 season. He has not accepted at this time as he is reportedly also considering an offer from the Cleveland Indians that would pay him $18 million over the course of the next two seasons. Kevin Youkilis's decision is, at heart,...
MLB News

Delivered to your inbox

You'll also receive Yardbarker's daily Top 10, featuring the best sports stories from around the web. Customize your newsletter to get articles on your favorite sports and teams. And the best part? It's free!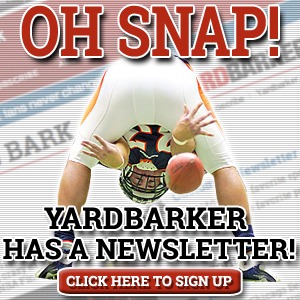 Latest Rumors
Best of Yardbarker

Today's Best Stuff

For Bloggers

Join the Yardbarker Network for more promotion, traffic, and money.

Company Info

Help

What is Yardbarker?

Yardbarker is the largest network of sports blogs and pro athlete blogs on the web. This site is the hub of the Yardbarker Network, where our editors and algorithms curate the best sports content from our network and beyond.