Found February 15, 2013 on Red's Army:
Here's my loose transcription of Doc Rivers appearance this morning on WEEI.  On the timing of the All-Star break: We can go both ways with the break. We're playing well now. But with the body count we have, I couldn't have found a better time. You just kinda coach em… and they kinda play. You have to coach the guys that are playing. You have to get the guys that you expect to win still. There will be changes in the way we play. We can't replace Rondo, Sully and Barbosa… even the way he plays. You have to find another way. What is the priority? Guards or big? I'm golfing over the break. Danny is doing all the work, which is terrific as far as I'm concerned. With the Barbosa injury, we can't look at one position anymore. Now we are looking at players. We need players as soon as we can get them. But we don't want to do anything so quick. Because if something else develops, we're at the cap without room. (We need) a ball handling guard. No longer just a point guard. A perfect guard for...
Original Story:
http://feedproxy.google.com/~r/RedsAr...
THE BACKYARD
BEST OF MAXIM
RELATED ARTICLES
Who knew KG still (or ever) had this kind of handle? As the Celtics were starting their dramatic 4th quarter rally against the Bulls last night, Kevin Garnett delivered what for me was his most entertaining and impressive highlight of the season.  Garnett decided he was going to be the point guard. He held the ball near half court, directed traffic, and called out a play; just...
Kevin Garnett has been hinting at retirement for a number of years now.  He's still a productive player in the league, but his skills have diminished over the years.  Because of this, Garnett may be leaning toward retirement.  At least we are led to believe that based on the Boston Celtics' star's comments.Garnett said this All-Star Game in Houston would be his last...
Less than 48 hours ago Kevin Garnett sent Celtics fans, the media, and the twitterverse into panic mode when he said that this year's All-Star game would be his last, and seemed to hint at retirement. Personally I never gave a ton of credence to the comments considering A. KG's impossible to read, he never gives direct answers and B. Comments made after a grueling stretch...
BOSTON — Jared Sullinger is spending his days lounging around, and it is terrible. The rookie forward made an appearance at TD Garden on Wednesday and expounded on his recovery from back surgery, which he underwent two weeks ago. Upbeat but clearly itching to play, Sullinger described a recovery that, so far, seems pretty boring. Sullinger cannot work out or engage in any physical...
I don't know much about Gery Woelfel, except that he's a columnist/report for the Journal Times in Racine, Wisconsin. What does he mean by primary destination? That Smith wants to come to Boston? I don't see how the Celtics can make a deal for Josh Smith. Atlanta isn't taking back Brandon Bass and Courtney Lee. Would they take a Jeff Green combo? I just don't see how it works.
BOSTON — Maybe it was a slip of the tongue or a subtly placed hint, but Kevin Garnett left quite a few reporters scratching their heads on Wednesday. After the Celtics closed out the first half of the regular season with a victory over the Bulls, Garnett talked about the fatigue he felt after playing three games in four days and how the Celtics have managed to win eight of their...
I love how they keep on wanting Bolt to give props to other teams and players, but it's all about Kevin Garnett and the Celtics for the world's fastest man. Big thanks to Celtics Lifer Tia Compenser for the video tip.
With Leandro Barbosa joining Rajon Rondo out of the lineup with a torn ACL, the Boston Celtics need to trade for a point guard, if they want to have any chance of making any noise this season. They now do not have a single point guard on the roster and must fix this immediately. However, they do not have much to offer besides future first and second round picks and 2012 first round...
Kevin Garnett has always been one to talk a lot of junk on the floor over the course of his 18-year career between Minnesota and Boston. But off of the court it is a different story.  Except this time around, the story surrounding Garnett has everyone in Boston mystified if the "Big Ticket" really is set to play his last All-Star Game on Sunday in Houston. This will...
In the past twelve hours, three major trade rumors involving the Celtics have leaked. First, we saw a proposed trade that would send Rajon Rondo to the Lakers for Dwight Howard. Then Kevin Garnett was rumored to be going to the Clippers for Eric Bledsoe and DeAndre Jordan. Now, the Celtics are interested in acquiring Josh Smith from the Hawks for Jeff Green and Brandon Bass, according...
OK, Internet. This is your time. Less than one full week remains before the NBA trade deadline, and now is the time when all semblance of sanity flies out of the window. So-called "anonymous sources" are about to work overtime. Even by the usual crazy standards of trade deadline season, though, Friday's report that the Celtics and Lakers had engaged in preliminary talks for...
I've had my issues with Glenn Ordway and his show over the years. It's no secret. But there is another side, which needs to be told as well. Warning: I'm about to go into "old bastard" mode and reference things that I remember that happened before some current members of the Boston sports media were even born. I think I've also mentioned before that Ordway was the first...
NBA News

Delivered to your inbox

You'll also receive Yardbarker's daily Top 10, featuring the best sports stories from around the web. Customize your newsletter to get articles on your favorite sports and teams. And the best part? It's free!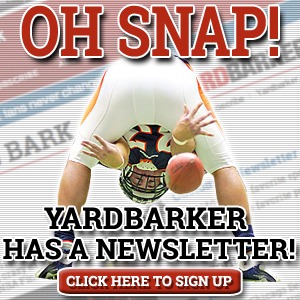 Latest Rumors
Best of Yardbarker

Today's Best Stuff

For Bloggers

Join the Yardbarker Network for more promotion, traffic, and money.

Company Info

Help

What is Yardbarker?

Yardbarker is the largest network of sports blogs and pro athlete blogs on the web. This site is the hub of the Yardbarker Network, where our editors and algorithms curate the best sports content from our network and beyond.