Found November 15, 2012 on Waiting For Next Year:
While We're Waiting serves as the early morning gathering of WFNY-esque information for your viewing pleasure. Have something you think we should see? Send it to our tips email at tips@waitingfornextyear.com. "Anderson Varejao scored 35 points and grabbed 18 rebounds last night in a loss to the Nets. It feels crazy to write that, because Varejao isn't the kind of center you expect to put up such fat numbers. He's the "energy guy," the big man who never stops moving, fighting for rebounds, tipping balls to teammates. He's the sort of player who puts up cockeyed stat lines—an 8-and-13 guy. So how the hell does a guy with no real offensive game to speak of pour in 35 points? By proving that "energy guy" and "extremely talented" are not mutually exclusive, that's how." [Ley/Deadspin] —- Baseball America's Top Ten Prospects for the Indians- "If the Indians are counting on help from the minors, impact talent is still at least a couple of years away. Francisco Lindor is a potential all-star and fellow shortstop Dorssys Paulino may be the best international player they've signed since Peralta in 1999. But neither has played above low Class A, nor has 2012 first-rounder Tyler Naquin, and beyond them the system is thin." [Badler/Baseball America] —- Marlins fan trades his allegiance- "It is now my time to make a trade. Your entire organization is being traded for a new club, which houses many of your former players — the Detroit Tigers. I have been following them for many years as I took up residence in Michigan, but I had always retained my loyalty to you. Not any longer. 100 percent of my loyalty has been shifted. It will no longer be "Let's Go Fish," but "Let's Go Tigers" — a team with an owner who actually cares about winning instead of his bottom line. Goodbye, Billy the Marlin. Hello, Paws. Thanks for the memories, though. The good ones were mostly erased by all of the moves you made over the years, but I will always be grateful for you bringing a professional sports team to south Florida. Even though Joe Robbie, Pro Player, Dolphins, and Sun Life Stadium were empty on most nights, I paid my hard earned money to see live professional baseball for many years and create everlasting memories that I will carry with me forever with the last one being now." [Big League Stew] —- "As bad as the Cavs are on defense, there is one player I believe is head and shoulders below everyone other starter on defense. The Cavs start six players: Anderson Varajao, Alonzo Gee, Tristan Thomson, Dion Waiters, Kyrie Irving's offense, and Kyrie Irving's defense. This is like the Star Trek where evil trans-dimensional Kirk replaces good Kirk, except it happens to Kyrie every time he doesn't have the ball. It's mind boggling how a player who is so gifted and instinctive on offense can be so terrible on defense. Maybe he needs to lose the Evil Spock goatee." [Smith/Cavs the Blog] —- "So let's say we trade Andy for a lottery pick and another talented young player. Say we trade him to OKC for Jeremy Lamb and Toronto's guaranteed lottery pick. For that trade to come out on the plus side for us we'd have to hit on that pick, Lamb would have to develop into a solid player, AND we'd have to find a way to resign those two players in a few years when we've already, presumably, extended Kyrie to a max deal and hopefully extended Dion Waiters. That's a lot that has to happen. Once the young players hit their stride, assuming they even do, just like OKC we'd be looking at a one or two year window to break through before the cap crunch. Stars would have to align in a way that us Clevelanders certainly aren't used to seeing. So instead we should diversify. Going forward we should be looking at a team of young talent with a mix of established NBA veterans. Chris Grant has done an admirable job ripping down and rebuilding this roster much faster than I, or anyone, could've hoped for after the decision. While I'll never say we have enough young talent, the picks have been made and the infusion has already occurred. We don't know what the future has in store for Tristan Thompson, Zeller, or even Waiters frankly. But the early returns on Waiters and the fact that Kyrie Irving is an absolute star would indicate it's time to move forward to the next phase. In fact, the rise of Kyrie Irving from promising rookie to a player that looks like he could very well be one of the best PG's in the league right now is the main reason it's time to move forward. With a talent like his I don't think we need to dump a double-double machine to roll the dice in the lottery anymore. Especially one who is incredibly underpaid and is quickly developing a tremendous chemistry with your young superstar." [Nagel/Stepien Rules]
Original Story:
http://www.waitingfornextyear.com/201...
THE BACKYARD
BEST OF MAXIM
RELATED ARTICLES
The trading block is a beautiful thing in the mind of a basketball writer. Just remember, once you're on our trading block, you will not be taken off until you are dealt. At least, that's the perception. Until Kevin Martin got traded to Oklahoma City, I've seen at least 12 different trades involving him. Clippers backup point guard Eric Bledsoe has gain heavy trade momentum...
Before the Cavaliers suffered a 114-101 loss to the Nets in on Tuesday night, Kyrie Irving stopped by Foot Locker's "Week of Greatness" launch event in New York City to help unveil his new TV commercial and preview the chain's holiday retail sneaker lineup. The result is below, complete with the perfect Kyrivian ending. Do enjoy. "[The commercial is] truly a blessing,...
Anderson Varejao. Daniel Gibson. Alonzo Gee. These three names would be the only ones that a visually preturbed Scott would list off following his team's recent loss to the Brooklyn Nets, one which included a solid first quarter coupled with three quarters of defense that would best replicate that of the All-Star game or an And1 mixtape. A young roster, full of upside and excitement...
With his Cleveland Cavaliers team struggling mightily on the defensive end and the large part of the abuse coming at the expense of his reserve unit, head coach Byron Scott still plans on sticking to his deep rotation, preferring his players focus on their individual efforts. At Thursday afternoon's practice, Scott admitted that while he has considered shortening his rotation,...
We know the Cavaliers' defense is bad. But how bad in comparison to the rest of the league is measurable, and the measurement is ugly. Tha answer: very ugly. "When Kyrie Irving and Dion Waiters combined for 52 points in a road win over the Los Angeles Clippers last week, we started to see some real potential in the Cleveland Cavaliers. Since then, the Cavs have lost four straight...
About the only thing Anderson Varejao didn't do yesterday was win.  As his Cavaliers got dismantled in Brooklyn, Varejao (along with his teammate Kyrie Irving, who scored a career-high 34 points) refused to go down without a fight.  By the time the final buzzer put an end to his boisterous 37-minute outing, Varejao had scored 35 points, collected 18 rebounds, doled out 3 assists...
Nights like this are gonna happen, but that doesnt make them enjoyable or easier to handle. The verdict: Brooklyn 114, Cavaliers 101 on Tuesday in a game that was only close when it didnt really seem to matter. This was the Cavs first visit to the new Barclays Center, and the only people who seemed willing to get the most out of the experience were Anderson Varejao and (who else...
NEW YORK (AP) -- Deron Williams had 26 points and 10 assists, Joe Johnson scored 25 points, and the Brooklyn Nets beat the road-weary Cleveland Cavaliers 114-101 on Tuesday night for their third straight victory. Brook Lopez added 23 points for the Nets, who opened a 20-point lead at home for the third straight game, but this time barely let up and beat the Cavaliers for the sixth...
MAGIC HANDLES
Tweet   Kyrie Irving of the Cleveland Cavaliers is quickly working his way up the list of top point guards in the NBA, justifying Cleveland taking him with the top pick in last year's draft just about every time he takes the court. Tonight against the Brooklyn Nets, in the presence of another of league's [...]
The holiday shopping season will soon be upon us and Foot Locker is heating things up this season with the Week of Greatness. They have kicked things off with the official Week of Greatness launch party with special guest, Cleveland Cavaliers star Kyrie Irving. The 2011-2012 NBA Rookie of the Year and newest member of Foot Locker Team Approved stopped by the exclusive event to debut...
INDEPENDENCE, Ohio -- Dont think the Cavaliers bench woes are a big secret around these parts. The coach, his assistants and the players are all well aware. If I said I had the right pieces from the bench standpoint, Id be lying, said Cavs coach Byron Scott. Statsitically, the bench isnt awful. It actually outscored Oklahoma Citys bench (29-22) in a road loss earlier this week...
While We're Waiting serves as the early morning gathering of WFNY-esque information for your viewing pleasure. Have something you think we should see? Send it to our tips email at tips@waitingfornextyear.com. Wow. Honest admission. Great interview- "ESPN.com's John Hollinger is very high on Cavaliers point guard Kyrie Irving, who by many measures performed about as well last...
NBA News

Delivered to your inbox

You'll also receive Yardbarker's daily Top 10, featuring the best sports stories from around the web. Customize your newsletter to get articles on your favorite sports and teams. And the best part? It's free!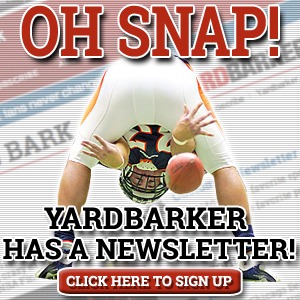 Latest Rumors
Best of Yardbarker

Today's Best Stuff

For Bloggers

Join the Yardbarker Network for more promotion, traffic, and money.

Company Info

Help

What is Yardbarker?

Yardbarker is the largest network of sports blogs and pro athlete blogs on the web. This site is the hub of the Yardbarker Network, where our editors and algorithms curate the best sports content from our network and beyond.