Bob Arum and Don King, the most prominent promoters in boxing history, have butted heads for decades. But they are friendly rivals these days and enjoy talking over old times and telling their war stories.
Two icons in the boxing world, Bob Arum and Don King, put their extensive history aside as they sat with Mark Kriegel and discussed life at 86, the upcoming fight and what keeps them going.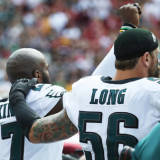 Front Five: The top stories that shaped both sports & politics this week "Don't believe the hype." - Russell Okung, Los Angeles Chargers offensive tackleThe National Football League's season of messiness and drama continues on for another week, and this time Jerry Jones is not involved. This time around it's players, not the owners, who are fighting each other.It all started...
Despite what Donald Trump has trumpeted, Don King made it clear he is not endorsing the Republican presidential candidate. Trump had previously tweeted out  this message: The great boxing promoter, Don King, just endorsed me. Nice! — Donald J. Trump (@realDonaldTrump) June 10, 2016 When asked about this at Muhammad Ali's funeral, King shot down Trump's claim. "No," King...
By Larry Brown Don King is up to his old shenanigans again, and Ricardo Mayorga is having none of it. Mayorga is set to fight Shane Mosley at The Forum in Inglewood, Calif. on Aug. 29, but King is trying to intercede. The infamous boxing promoter filed a motion in Florida to block the fight, arguing that Mayorga is still under contract with him. Mayorga, who retired after losing...
Here are the quotes and photos from the final press conference in Germany for the vacant WBA Light Heavyweight World Championship between leading contenders Juergen Braehmer (41-2, 31 KOs) and Marcus Oliveira (24-2-1, 20 KOs). Don King even made a rare appearance at a fight promotion, something which happens less and less these days. Oliveira is promoted by King, whose stable has...
Promoter Don King, the four fighters who'll compete this Friday, April 12, on ShoBox: The New Generation live on Showtime, and the other boxers who will fight on a stacked undercard participated in the final press conference Wednesday at Treasure Island Resort & Casino. In a clash of southpaw lightweight boxers in the ShoBox 12-round main event, unbeaten WBA No. 3-ranked contender...
50 Cent has now joined the likes of Don King, Bob Arum and Oscar De La Hoya by founding his own promotional company for boxing. The rapper, who's been involved in a variety of business dealings outside of music, is calling his company TMT Promotions. (TMT so humbly stands for "The Money Team.") It's already acquired a license in New York and is working on doing the same in Nevada...
Don King is Largely Absent from the Boxing Game Today Starting with the Rumble in the Jungle in 1974, Don King began a march from small-time Cleveland street operator to boxing's top promoter. For a quarter century, Don King was the sport's major power broker, with Bob Arum and Top Rank running a clear second. Yet in recent years, King has slipped not just from the top spot...
Team Snooki Boxing will be making its debut this January 28 at—where else—the Jersey shore. No, the meat-ball-sized reality star, Nicole "Snooki" Polizzi,  won't be lacing up her own gloves but will be backing three Irish brothers ringside at Resorts Casino Hotel in the boardwalk city. Here comes boxing's newest Don King in high heels and mini skirt.  Hey, she has the same poofed...
MORE STORIES >>
Boxing News

Delivered to your inbox

You'll also receive Yardbarker's daily Top 10, featuring the best sports stories from around the web. Customize your newsletter to get articles on your favorite sports and teams. And the best part? It's free!