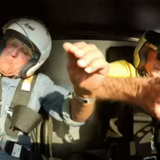 During filming for a segment of his show "Jay Leno's Garage," Jay Leno found himself a passenger in a 2,500-horsepower, Hemi-powered Plymouth Barracuda - the Hemi Under Glass drag car. The stunt driver behind the wheel was 80-year-old Bob Riggle, who popped a wheelie in the high-powered machine at Irwindale Speedway in California. When the car comes back down on all four wheels is...
Apparently, as I don't watch the show — no, not because I don't like him (although I do … um, not like him), but because it's past my bedtime — Jay Leno and his staff on "The Tonight Show" recently had some fun at the expense of Texas A&M Aggies quarterback Johnny Manziel and the […]The post This Johnny Manziel autographing football GIF is all kinds of awesome (GIF) appeared...
There is no player in college football as polarizing as Johnny Manziel. Just the mention of his name seems to get ESPN reporters in a tizzy (maybe that's why they don't know anything about the Michigan/Notre Dame rivalry). The young quarterback's every move (and lack of action) is a literal lightning rod of criticism. Not everyone is quick to hate and bash though. Longtime...
It had all the makings of a train wreck. And it didn't disappoint. A.J. McCarron's girlfriend Katherine Webb joined Kendra Wilkinson and Alexis Bellino on Jay Leno's trivia contest – and what transpired has to be seen to be believed. The only thing missing from that video is this epic game-show movie insult.
Florida Gulf Coast University is one of the newer institutions of higher education in the country, having been established in 1991. As you might expect, that can make raising money difficult. Former FGCU basketball coach Andy Enfield spoke about that challenge during an appearance on "The Tonight" Show with Jay Leno earlier this week. When Enfield, who is now the head coach at USC...
MORE STORIES >>
Entertainment News

Delivered to your inbox

You'll also receive Yardbarker's daily Top 10, featuring the best sports stories from around the web. Customize your newsletter to get articles on your favorite sports and teams. And the best part? It's free!