We've updated our Privacy Policy.
By continuing to use this site, you are agreeing to the new Privacy Policy.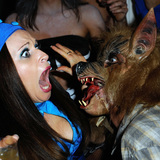 Few holidays lend themselves to a party like Halloween. The holiday season has its own set of party music, New Year's has the requisite countdown and rundown of the year's hits, and Thanksgiving is a time for feasting, which usually isn't accompanied by its own soundtrack. Halloween, with its spooky costumes and decorations and embrace of the macabre, invites a certain festivity...
What happens when an infamous shock rocker and an international death match pro wrestler meet? They throw down in a sick Vicks challenge of course! My old rasslin colleague Mad Man Pondo sat down with shock rocker Marilyn Manson and the two squared off in a Vicks Challenge. According to Pondo, Manson challenged him to the Vicks Challenge which consists of placing Vicks vapor...
If the roller skating rink employee from "Eastbound and Down" looked familiar to you, it's because you've seen him before. Shock rocker Marilyn Manson, who has long been a fan of the HBO show, appeared au naturel as a waiter during Sunday night's episode.  Sure, he only had about twenty seconds of screen time...but it was still fun to see him taking the brunt of one of Kenny...
LIKE WHAT YOU SEE?
GET THE DAILY NEWSLETTER:
Of all the things said about Marilyn Manson..."predictable" is not one of them. According to the Thirty Mile Zone, the 44-year-old rocker ditched his signature look earlier this year and shot a cameo for the hit HBO series "Eastbound and Down". Manson is a huge fan of the show and its main character, former baseball player Kenny Powers.  And, apparently, he's been bugging...
Marilyn Manson is known for his goth stage make-up and bizarre appearance, but even his most die-hard fans could be forgiven for failing to recognize the rock star, this week. The 44 year-old singer was photographed on the set of the HBO television series 'Eastbound & Down' without dramatic make-up and sporting seemingly lighter hair. The only clue to his alter ego was...
Oh, Brian Hugh Warner, you cad! Now that Mr. Marilyn Manson doesn't have his on-again-off-again engagement with the lovely and talented (and nearly half his age) Evan Rachel Wood to occupy his time, the Antichrist Superstar has turned his attention to and is now clearly obsessed with Kenny Powers and the brilliant HBO series, Eastbound [...]
MORE STORIES >>
Entertainment News

Delivered to your inbox

You'll also receive Yardbarker's daily Top 10, featuring the best sports stories from around the web. Customize your newsletter to get articles on your favorite sports and teams. And the best part? It's free!