We've updated our Privacy Policy.
By continuing to use this site, you are agreeing to the new Privacy Policy.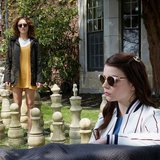 Being a teenager can be hell, especially when you have to deal with supernatural forces, vampires, witches, aliens, evil clowns, and just plain ol' human murders. However, watching these events unfold on the big screen can be endlessly entertaining to audiences looking to be scared. With the highly acclaimed teen thriller "Thoroughbreds" set to hit theaters on March 9, we decided...
Halloween is right around the corner, and we sincerely hope that you've been cramming as many spooky, scary and ghoulish movies in the month of October as possible. Wait, you haven't? Don't worry, as we've created a list of the movies you absolutely need to watch in anticipation of Oct. 31, before the calendars roll over to November. Here are the 25 best Halloween films of all time.
 The 2017 MTV Movie & TV Awards will be held on May 7, with "Beauty and the Beast," "The Edge of Seventeen," "Get Out," "Logan," and "Rogue One: A Star Wars Story" all vying for the top prize, Movie of the Year. This will be the 26th annual event, which means there have been 25 previous years and 25 previous winners in this category. To catch you up on what you've missed over...
LIKE WHAT YOU SEE?
GET THE DAILY NEWSLETTER:
The MTV Movie Awards have always demonstrated a steady finger on the pulse of pop culture consumption, but yes, sometimes even they get it wrong. Because it is not that they got it wrong in the moment; much like a fine wine or a french cheese, pop culture ideally should get better with age. This is not an opportunity to harp on that cute, cool kid who won Breakthrough Performance...
MORE STORIES >>
Entertainment News

Delivered to your inbox

You'll also receive Yardbarker's daily Top 10, featuring the best sports stories from around the web. Customize your newsletter to get articles on your favorite sports and teams. And the best part? It's free!