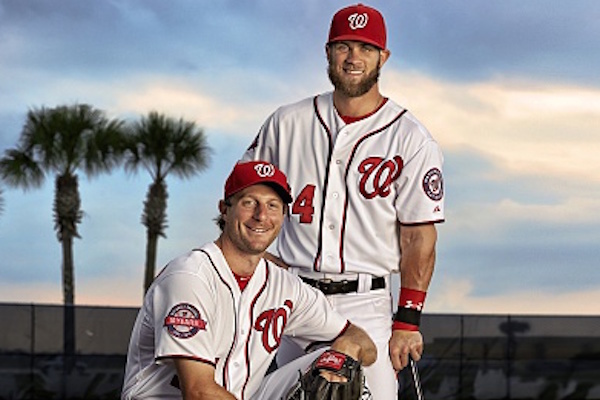 With the addition of Max Scherzer solidifying the rotation and Bryce Harper's continued development, the Nationals could be dangerous.
Al Tielemans /Sports Illustrated/Getty Images
By Brian Wright
Spring training is finally coming to a close. Soon, it'll be time for MLB teams to play for keeps. But what happened during exhibition play—in addition to key winter transactions—speaks volumes about how these teams stack up heading into the start of the 2015 regular season.
1. Washington Nationals: Good pitching trumps good hitting, and D.C. is currently winning the arms race. And despite the injuries heading into the season, the Nats remain the clear-cut favorites to win the World Series.
2. Seattle Mariners: The decision to sign Robinson Cano to a 10-year, $240 million contract in December 2013 doesn't look so crazy now. Seattle can win more than just the AL West with an underrated pitching staff and stout bullpen.
3. St. Louis Cardinals: This team seems to succeed even with a lineup of unknown players—every year. So the addition of Jason Heyward makes them that much more dangerous, and they figure to pick up where they left off last season.
4. Los Angeles Dodgers: This roster has seen many changes since Andrew Friedman took over as team president. But the one (important) constant that remains is reigning NL MVP Clayton Kershaw.
5. Detroit Tigers: Miguel Cabrera, Victor Martinez and Yoenis Cespedes comprise a devastating middle of the order. They'll continue to drive in runs and win in spite of their lousy bullpen.
6. Pittsburgh Pirates: Once a perennial doormat, the Bucs are set on putting together a new streak—three straight trips to the postseason.
7. Los Angeles Angels: A team with Mike Trout in the batting order is always a contender. Pitching is the determining factor in Anaheim.
8. Cleveland Indians: Ask the average fan who was last year's AL Cy Young Award winner, and many will overlook Corey Kluber. He'll anchor a solid rotation for Terry Francona's ballclub.
9. San Francisco Giants: Is it crazy to expect Madison Bumgarner to pick up where he left off for the reigning World Series champions? Even so, the back end of their pitching rotation may be exposed during the regular season. And the team may have trouble scoring runs.

10. Boston Red Sox: They are the favorite in the AL East due to the division's overall weakness. The newly-acquired bats should mask the holes in the pitching staff.
11. San Diego Padres: No general manager in baseball had a busier winter than A.J. Preller. But it's not convincing enough yet to make them a contender.
12. Baltimore Orioles: The departures of Nelson Cruz and Nick Markakis will make the task of driving in runs difficult. Manny Machado and Chris Davis' return should help somewhat, but this team could be poised for regression.

13. Chicago White Sox: Savvy offseason moves will give the "South Siders" a chance to compete in the competitive AL Central.
14. New York Mets: The Mets have a deep, young rotation that can absorb the loss of Zack Wheeler. Scoring runs is the real concern.
15. Chicago Cubs: This team is loaded with young talent, but it's wishful thinking (maybe borderline crazy) to pick them to win the World Series. It may not be in a year or two.
16. Kansas City Royals: The party may be over in K.C. Without veterans James Shields and Billy Butler, the youthful Royals will come back down to Earth a bit.
17. Miami Marlins: How will Giancarlo Stanton respond after taking a fastball to the head? He's the key piece in the team's talented outfield. And how will Jose Fernandez look upon his return from Tommy John surgery? That's a true unknown, as is the rest of the roster which is made up of many young players.
18. Oakland A's: It's amazing to think that they were the odds-on favorite to win the World Series last July. This team is tough to figure out, and it's hard to see them consistently winning.
19. New York Yankees: They may soon play second fiddle in the Big Apple with a roster comprised of veterans, coupled with bad contract situations. The Yankees have the pieces to remain relevant, but are they going to remain relatively healthy?
20. Toronto Blue Jays: By adding Josh Donaldson, the Jays made their lineup even better. It's too bad management didn't do more about their pitching.
21. Milwaukee Brewers: This team faded down the stretch in 2014. That regression will continue into 2015.
22. Houston Astros: George Springer and other young, talented prospects can make Houston fans tolerate another losing season—with the promise of better days ahead.
23. Tampa Bay Rays: David Price (traded in July 2014) and Joe Maddon aren't going to help carry this club anymore. That means so are the team's playoff chances as they look to rebuild.
24. Cincinnati Reds: Solid defense and productive hitting can only do so much. The weak starting rotation (beyond Johnny Cueto) could burn out the bullpen—and Aroldis Chapman— by July.
25. Atlanta Braves: One of the only positives for Atlanta this season will be cherishing the few remaining games at 19-year-old Turner Field. Good young pitching will likely be overshadowed by a putrid offense.
26. Texas Rangers: With Yu Darvish, this team is maybe mediocre. Without him, it's hopeless.
27. Minnesota Twins: New skipper Paul Molitor won't have it easy—stuck in a loaded division with an underwhelming pitching staff.
28. Colorado Rockies: The safest bet in the "first manager to be fired" category? It sure looks like Walt Weiss, at least at this point in time.
29. Arizona Diamondbacks: Things don't look promising when your Opening Day starter is Josh Collmenter.
30: Philadelphia Phillies: Citizens Bank Park plans to serve hard liquor at home games starting this season. The fans will need it.
MORE FROM YARDBARKER
MLB News

Delivered to your inbox

You'll also receive Yardbarker's daily Top 10, featuring the best sports stories from around the web. Customize your newsletter to get articles on your favorite sports and teams. And the best part? It's free!