SCOTTSDALE, Ariz. — Consider Yency Almonte, the Rockies' 6-foot-5, 225-pound, 23-year-old, right-handed pitcher with a 95 mph fastball. Consider the possibility that he could be the next big thing in the Rockies' rotation. That's certainly the feeling one gets when they listen to manager Bud Black talk about Almonte, who was acquired from the White Sox in a trade in November 2015...
The 2018 Colorado Rockies are a confident bunch. That's been the No. 1 takeaway the staff at Mile High Sports who have traveled to Spring Training and back has reported upon their return to Denver. Coming off an 87-win season and a trip to the playoffs, this club believes it can do even better in 2018. It's an overwhelming sense of confidence that our writers who have covered the...
Rockies news and links for March 16, 2018 Key to Colorado Rockies' successful season will depend on young rotation | Denver Post ($) Two weeks from today the Rockies will begin their 2018 season. A lot of attention has been paid to pitching this offseason, and we're likely to see Jon Gray aiming to come back after a hard end to the last season. Gray has worked hard to get here,...
SCOTTSDALE, Ariz. — Some of the best news of Rockies' camp came during a simulated game Wednesday. Utility infielder Pat Valaika, who looked like he might miss the season opener because of a strained left oblique, played third base and went 1-for-3 on a back field. "Right off the bat, Pat had (to make) a play right down the third-base line," manager Bud Black said. "It turned out...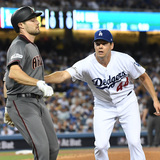 There are no ongoing extension talks between A.J. Pollock and the Diamondbacks, Pollock himself tells Nick Piecoro of the Arizona Republic. Pollock hopes to remain with the D-backs long term, though like most impending free agents entering their walk year, he says he's more focused on the upcoming season than his contract status. Arizona GM Mike Hazen offered little insight when...
Colorado Rockies manager Bud Black helped shepherd an extremely young Rockies starting rotation to the playoffs in 2017. More than half of his team's starts last season came from rookies. But with success comes heightened expectations. Chief among those heightened expectation is the belief that Jon Gray can become the staff 'ace' as is expected with someone who was the No. 3 overall...
Colorado Rockies manager Bud Black was criticized for how he optimized the lineup in 2017, but he did something sneaky that could pay massive dividends in 2018.
On Monday, Colorado Rockies starting pitcher Tyler Anderson was shelled in two plus innings of work in his spring debut in the Rockies 5-4 loss to the Chicago Cubs. Tyler Anderson did not have a good start to his spring as, on Monday...
Black and his staff have raised expectations for their second season in Colorado After a successful first season under the guiding hand of Bud Black, the Colorado Rockies are returning an intact coaching staff in 2018. While Black and his staff may have made decisions that not everyone agreed with, the end result of a playoff berth in his first year exceeded expectations. It's...
Recently, Colorado Rockies manager Bud Black talked to the media and discussed the topic of base stealing. Colorado Rockies manager Bud Black recently talked to the media about some things and one of the things he said was that he wants...
MORE STORIES >>
MLB News

Delivered to your inbox

You'll also receive Yardbarker's daily Top 10, featuring the best sports stories from around the web. Customize your newsletter to get articles on your favorite sports and teams. And the best part? It's free!