Tim Britton of The Athletic got to hear from both Mickey Callaway and Wilmer Flores regarding the infielder's outfield experiment that was tested in game action for the first time yesterday. Callaway said this regarding his reasoning for trying this out: "You saw why he needs to be playing multiple positions, because the kid can hit. We need to get him as many at-bats as we can this...
WEST PALM BEACH, Fla. — Two years ago, Yoenis Cespedes gave Wilmer Flores, career infielder, an outfielder's glove "just in case." Well, "in case" came Saturday. And with the way Flores mashes the ball, it could come again relatively soon. "I felt weird obviously," said Flores who started and played left field for the first...
Using a glove he got from Yoenis Cespedes two years ago, Mets infielder Wilmer Flores played his first game in left field in Saturday's 9-7 win over the Nationals.
SNY.tv captures the sights and sounds of Wednesday's workout at New York Mets Spring Training in Port St. Lucie, featuring Noah Syndergaard, Jose Reyes, Todd Frazier, Wilmer Flores, and more!
SNY.tv delivers the sights and sounds of Tuesday's New York Mets workout in Port St. Lucie, with up close looks at Zack Wheeler, AJ Ramos, Jose Reyes, Wilmer Flores, and more.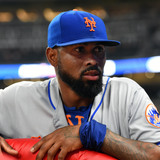 The Mets have agreed to re-sign infielder Jose Reyes, according to Ken Rosenthal of The Athletic (via Twitter). It's a one-year deal that appears to be of the MLB variety, though terms are not yet known.While this move may not bring quite the impact Mets fans have been hoping for from an infield signing, it seems the plan is not to utilize Reyes as a regular. Instead, per Rosenthal...
SNY caught up with Wilmer Flores while he was handing out food for charity, and got his thoughts on new Mets manager Mickey Callaway.
Wilmer Flores and his tears rallied the 2015 New York Mets to a World Series appearance, but the 2017 rendition of pained Wilmer will provide no inspiration and no hope for the last month of baseball in New York. In the 4th inning of the second game of Saturday's doubleheader with the Houston Astros, Wilmer Flores took a hack at an inside pitch on a 2-2 count and fouled the ball...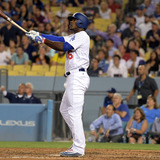 Yasiel Puig has done it again. The Cuban slugger is at the center of another controversy over his celebration methods.Puig clubbed a 3-run home run in the bottom of the fourth inning against the New York Mets on Wednesday night and really admired his shot. As he rounded first, Wilmer Flores said something to him. Puig then slowed up and shouted back at Flores. Puig ended up taking...
New York Mets infielder Wilmer Flores calls in to SNY's Mets Hot Stove to reflect on last season, his recovery from wrist surgery, and his role in the lineup in 2017.
MORE STORIES >>
Mets News

Delivered to your inbox

You'll also receive Yardbarker's daily Top 10, featuring the best sports stories from around the web. Customize your newsletter to get articles on your favorite sports and teams. And the best part? It's free!