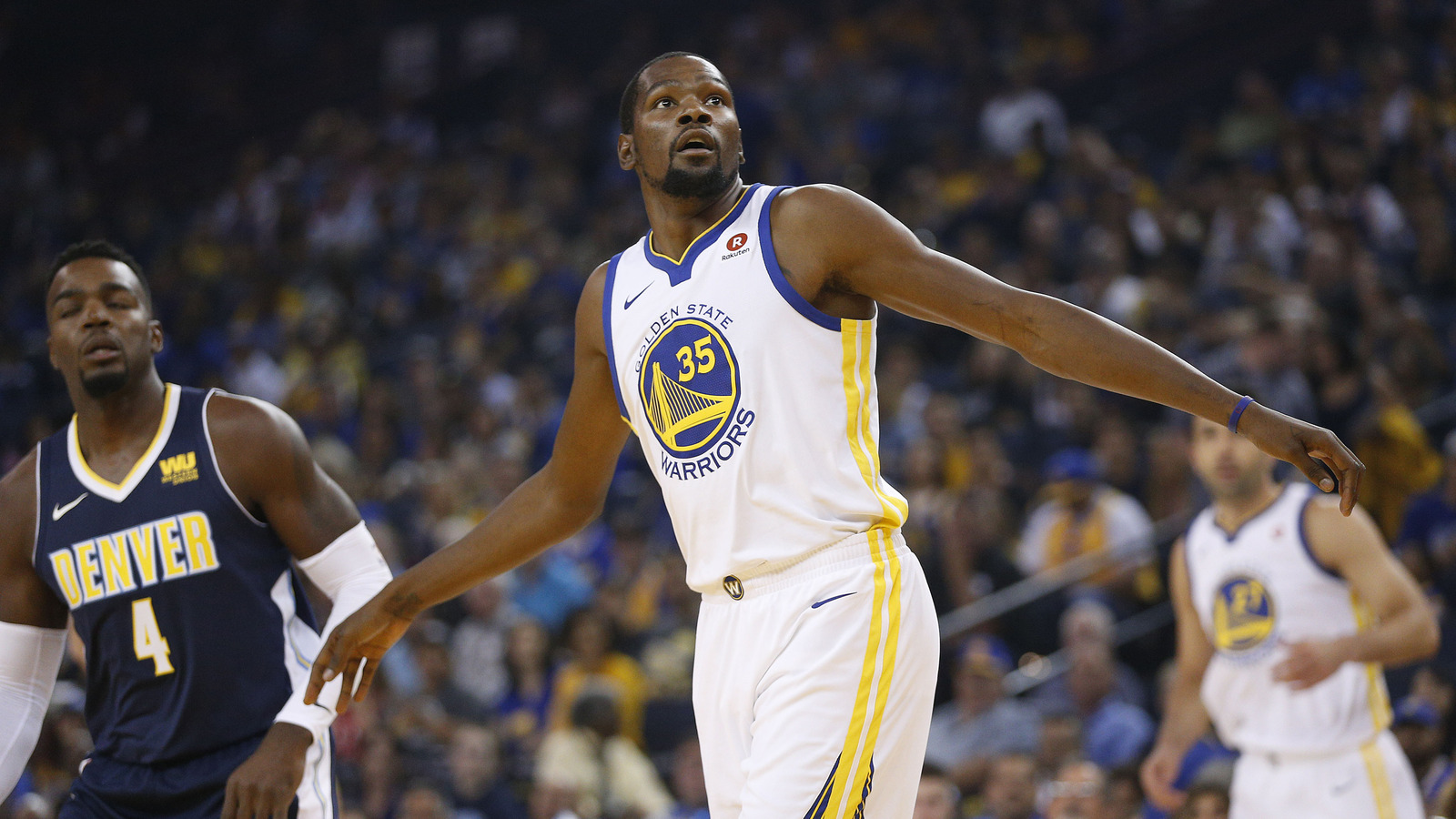 Sep 30, 2017; Oakland, CA, USA; Golden State Warriors forward Kevin Durant (35) positions himself for a rebound against the Denver Nuggets in the first quarter at Oracle Arena. 
Cary Edmondson-USA TODAY Sports
Let's just go right ahead and state the obvious here: this is not your father's Western Conference. Not anymore. Gone are the days of sophisticated battles of equal parts brains and brawn. Dead and buried are the cordial, gentlemanly competitions of X's and O's that generations prior enjoyed and romanticized. With the defection of no fewer than four current or former Eastern All-Stars this summer to what was already the NBA's far superior conference, the era of all-out war is officially upon us. Blitzkrieg strikes will illuminate the heavens, campaigns of attrition will be waged, and rivers everywhere will run red with blood as what had previously been known as the West now makes way for the Wild Wild West. But instead of Buffalo Bill Cody and Wyatt Earp, this battle will be fought be a more familiar cast of characters. And what a privilege you and I will have to enjoy front row seats as the hostilities commence in 2017-18.
Ladies and germs, may I present a comprehensive ranking of the 20 best players in the Western Conference (with sincerest apologies and honorable mentions to DeAndre Jordan, C.J. McCollum, Andrew Wiggins, and newly-christened Westerner Carmelo Anthony, all of whose respective nits proved impossible not to pick when wading through a talent pool this deep). This is part of a series, as we also ranked the 20 best players in the Eastern Conference previously.
20. Marc Gasol, C, Memphis Grizzlies
When he's not sashaying like Conor McGregor or slinging shade in Catalan, Gasol continues to further his standing as one of the more undervalued bigs in the NBA. The former Defensive Player of the Year quietly posted career-highs in points (19.5) and assists per game (4.6) last season while playing his usual stout D. Yes, Father Time's kiss may not be far off with Gasol set to turn 33 in January. But for now, I say long live those paint-protecting fundamentals and them elegant sweeping hooks from the mid-post. Me encanta la Gasol-ina.
19. Nikola Jokic, PF/C, Denver Nuggets
If you're a) an advanced stats/PER nerd, b) a point-center enthusiast, c) a fan of mellifluous European symphony, or d) any of the above, you may be rather fond of our Serbian stud. Capable of filling the stat sheet (Jokic's six triple-doubles in 2016-17 were the most in a single season by a big man since Kevin Garnett in 2002-03) and the highlight reel (come get lost with me, friends), Jokic and his all-around offensive genius are a beacon of hope on a Denver team that always seems to be stuck in the marshes of mediocrity. Jack Nicholson and Heath Ledger ain't got nothing on this Joker.
18. Mike Conley, PG, Memphis Grizzlies
How did Conley respond to your repeated attempts to slander him on the TL after he signed his $153 million max deal last summer (which at the time was the largest in NBA history)? By putting together a career year and telling you to take that for data. Conley hit the 20-point-per-game mark for the first time in 10 NBA seasons and did so on career-best efficiency (46.0 percent from the field and 40.7 percent from three). The "underrated" label has stalked him for many moons now, but it's high time to start calling Conley what he really is: one of the league's elite two-way point guards. Tennessee got itself a good one.
17. Paul Millsap, PF, Denver Nuggets
Not one, not two, not three … but four. That's how many consecutive All-Star teams Millsap has now made. You may not have realized it with him slaving away in obscurity as an Atlanta Hawk these last several years. But Millsap may be playing the best basketball of his life in his early-30s, and you will be hard-pressed to find another power forward who can beat you in so many different ways. Just pick an alter-ego. Maybe you identify with Maul Millsap, the menacing close-range scorer and rebounder. Or perhaps you prefer Paul Trillsap, the on-call three-point deadeye. Or what about Wall Millsap, the rugged and durable blue-collar defender? In any case, here's some good advice if you're looking for another reason to get excited about what should be an up-tempo, motion-offense-happy Nuggets team this season: Better Call Paul.
16. Damian Lillard, PG, Portland Trail Blazers
Damian Lamonte Ollie Lillard is here to spit bars and sauce on the haters. It was bombs away for Rip City's leading man last year, as he upped his scoring output for the fifth straight season since entering the league. What's new however was that he also managed to do so on a career-best 44.4 percent from the field, a solid mark given the volume at which he lets it fly. Lillard is just entering his athletic prime at 27 years old and another 82-plus games of him taking on the world with fellow backcourt incinerator C.J. McCollum should make for some must-watch content. All hail the almighty Dame D.O.L.L.A.
15. Blake Griffin, PF, Los Angeles Clippers
After six seasons of lobs, inciting mobs, and early postseason sobs, Chris Paul has departed for Houston having succumbed to the advances of a new bearded beau. Now it is time for the L.A. metropolitan to bear witness to the rise of their one true basketball team, the only franchise that ever really mattered: the Los Angeles Blakers. Griffin's return to pre-CP3 protagonist status comes with a fair amount of questions. Can the Clippers count on him to be their full-time lead creator? Will he have to shift out to the three-point arc to assuage the team's spacing limitations? Is coughing up $173 million for a wrecking ball power forward with a troublesome injury history even remotely defensible? Click, click, your close-up moment has arrived, Mr. Kendall Jenner.
14. DeMarcus Cousins, C, New Orleans Pelicans
The Pelicans were just 11-14 after Cousins' surprise arrival last season, but it's hard to blame it on the Boogie. Yes, he has a tendency to hijack the offense, and yes, he can be about as charming as an eel sometimes. But Cousins remains the most physically dominant big man in the NBA today, and he has begun to spice up that brute force with a legitimate outside game (a career-high 1.8 threes per game on a 36.1 percent clip last season) and increased playmaking capabilities (4.6 assists per game in 2016-17, also a career-best). Another year to get comfortable with his one-eyebrowed frontcourt partner (not to mention his heartwarming reunion narrative with Rajon Rondo) should help Cousins return to an All-NBA level of play.
13. Klay Thompson, SG, Golden State Warriors
Things are going A-OKlay for the less-heralded Splash Brother — he's now a two-time NBA champ, he's still getting a healthy 17-18 shot attempts a night, and he appears to have achieved spiritual nirvana during his visit to China this summer. With his all-world teammates able to do most of the heavy lifting, Thompson can settle for backup vocals: a catch-and-shoot fireball here, a few minutes checking the other team's top perimeter threat there, and so forth. In truth, it's a role that may be selling Thompson's talents short, but what matters is he's out here living his best life and rack up the Ws while doing it.
12. Karl-Anthony Towns, PF/C, Minnesota Timberwolves
Don't be fooled by Towns' amicable 21-year-old demeanor: he will only be sweet on you before he beats on you. A guard trapped in a seven-footer's body, Towns' silky smoothness and all-around polish for his age is pure delirium. On any given night, he can slap up 30 and 15 with excellent percentages plus a smattering of defensive stats and, to this point of his career, has largely done it without proper three-point shooting around him. But fresh troops have arrived in Minny (more on this in a minute), so with Towns already asserting his rule over the paint and the perimeter, a third P may be next: the playoffs.
11. Rudy Gobert, C, Utah Jazz
How do you say "coming out party" in French? Gobert's 2016-17 campaign was a god dream. Not only did the Association's marquee paint protector lead the league in blocks and earn All-Defensive First Team honors, but he secured top-five finishes in rebounding, field goal percentage, and double-doubles for good measure as well. Now on a revenge tour after Gordon failed to Stayward in Utah, Gobert is as mad as a Mars hare, and his terrifying eight-foot wingspan is coming for that booty, NBA.
10. Paul George, SF/PF, Oklahoma City Thunder
"No OT tonight," declared George as he forced his way out of Indiana with a year left on his contract. The good news is that PG-13 is now in OKC playing with the strongest roster of his career (no big deal, just a reigning MVP and some hoodie enthusiast), and that whatever frustrations he had these last few years probably belied how dynamic of a player he truly is. You know what you're getting from George: a complete offensive game highlighted by a deliciously creamy pull-up J to go along with top-class wing defense. He should be the most efficient version of himself on the Thunder this season, and that has to be a bone-chilling thought for the rest of the NBA.
9. Draymond Green, PF/C, Golden State Warriors
He may be no better than a third wheel on the Golden State monster truck, but forget about Dray at your own peril. Green finally won his first Defensive Player of the Year Award last season, further cementing himself as an undeniably transformative specimen on that end of the floor. [extremely infomercial voice] "But wait! There's more!" He also became just the fourth frontcourt player in NBA history (along with LeBron James, Larry Bird, and John Havlicek) to average seven or more assists a game in consecutive years, and he proved cash from beyond the arc when it really mattered, hitting 41.0 percent of his 3s in the 2017 playoffs. Safe to call Green a superstar? YEUPP.
8. Jimmy Butler, SG/SF, Minnesota Timberwolves
After six seasons of captivity in Chicago, Butler is a free elf. Now he's on a Wolves team that's getting themselves a true alpha dog and one with 24-6-6 upside (elite territory for a wing player) at that. Also reunited with his former sensei Tom Thibodeau, Butler will be able to set the tone for his younger siblings on the team with his destructive one-on-one defense and by acting as an intermediary to help them master the Thibs theory on how to properly defend within the team framework. Let not your hearts be troubled, for St. Jimmy has arrived to deliver unto us all of the buckets.
7. Chris Paul, PG, Houston Rockets
The Point God has migrated along with all of his omnipotent powers to the Southeast Texas area, and much intrigue awaits. CP3 remains the best true floor general on the planet, and his brand of leadership, unselfishness, and basketball IQ should help the Rockets kick it into another gear next season. Where else can you find a 6-foot-nothing 32-year-old who still carries All-Defensive First Team talent and the ability to run a halfcourt offense so picturesque that it would make Vincent Van Gogh himself blush? Here's a hint: it rhymes with "schmowhere."
6. Anthony Davis, PF/C, New Orleans Pelicans
Our furry friend hit the 70-game plateau for the first time in his career last season, and every second of it was thoroughly wonderful. Davis went 28-12-2-1-2 over the course of the entire year, hit over half of his shots, and struck fear into the heart of anybody who even so much as looked at his basket. Truth be told, DeMarcus Cousins' arrival likely overshadowed how great of a year Davis actually had, and the due is somehow still just 24 years of age. So now my friends, I have only but one question: what can Brow do for you?
5. James Harden, SG, Houston Rockets
Continuing on our theme of facial hair, we arrive at Harden and the Great Point Guard Experiment of 2016-17. Well let's just say that it was a box office smash. Under The Bearded One's official and full-time PG tutelage, the Houston offense demolished records for three-pointers made and attempted. Harden himself led the league with 11.2 assists per game and also enjoyed a personal best in scoring thanks to the increased pace. Chris Paul's arrival should slow the tempo a bit and move Harden back to a more off-ball capacity. But with the presumable bump in quality looks he will be getting, Harden should be in line for another season of silly production.
4. Russell Westbrook, PG, Oklahoma City Thunder
Russ' rampage turned out to be one heck of a ride. In his first year of post-KD existence, Westbrook Hulk-smashed his way to the MVP award, became Mr. Triple-Double (including recording at least seven of them while sitting on the toilet, I'm fairly certain), and dunked a multitude of unlucky souls right into the wilderness of purgatory. He's the NBA's leading scorer, he's the world's best rebounding guard, he's the observable universe's most powerful downhill force, and there's no turning back now that he's out of his cage. And with the arrival of some SuperFriends in Paul George and Carmelo Anthony this offseason, it's all the more that Westbrook will stop at nothing in his obsessive quest to overthrow the ruling class of the Western Conference.
3. Stephen Curry, PG, Golden State Warriors
There was a new sheriff in town last season in Silicon Valley, but that hardly took away from Curry's continued Human Torch displays. It's really not a debate anymore that The Chef is already the greatest shooter in league history at the age of 29. Curry's recession of sorts into a co-chair role only made us appreciate his auxiliary talents even more: his fighter jet-like reflexes on D, the crisp extra passes, and those oh so heart-eye-emoji sequences of off-ball movement. 25 points and seven dimes a night on 47-41-90 shooting plus a championship ring would be the summit of the mountain for 99.57 percent of the NBA. But the fact it was seen as a down year for Curry is a testament to the higher-than-Snoop-Dogg bar the man has set for himself and his greatness.
2. Kawhi Leonard, SF, San Antonio Spurs
You know what they say about the quiet ones. Leonard's transformation from defensive death machine to total basketball terminator reached completion last season, and it was quite terrifying. King Kornrows scores better than most guards now (he had more points per game than Kyrie Irving, shot better from three than Damian Lillard, and got to the line at a higher rate than John Wall), and he still nukes multiple positions on defense. Leonard has become the alpha and omega of everything the Spurs do, and it's stupefying that he was able to drag them to yet another 60-win season playing alongside nothing more than spare and/or aging parts and the ghost of LaMarcus Aldridge. Unfortunately, Zaza Pachulia's foot robbed us of seeing what the full brunt of Leonard's power looked like last postseason. This time around though, neither enemies nor emotions will be able to stop The KawhiBot.
1. Kevin Durant, SF/PF, Golden State Warriors
He may be an Internet troll off the court, but at least Durant is (to borrow a term from Neymar) 100 percent Jesus on it. From "cupcake" to "snake" (plus a plethora of others not fit for print), he heard every name in the book this last year after his wildly unpopular decision to join the Dubs in free agency, but there's only one that matters now: "Finals MVP." Able to hit from anywhere on the floor, up to and including the parking lot, and now a game-changing presence with his defensive versatility and his rim protection as well, Durant is the NBA superstar she told you not to worry about. Send. Help. Now.
PLAYERS:
C.J. McCollum
,
Carmelo Anthony
,
Marc Gasol
,
Conor McGregor
,
Nikola Jokic
,
Kevin Garnett
,
Jack Nicholson
,
Heath Ledger
,
Mike Conley
,
Paul Millsap
,
Damian Lillard
,
Chris Paul
,
Rajon Rondo
,
Rudy Gobert
,
LeBron James
,
Larry Bird
,
Tom Thibodeau
,
LaMarcus Aldridge
,
Zaza Pachulia
TEAMS:
Portland Trail Blazers
,
Oklahoma City Thunder
,
Memphis Grizzlies
,
Denver Nuggets
,
Boston Celtics
,
Houston Rockets
,
New Orleans Pelicans
,
Utah Jazz
,
Cleveland Cavaliers
,
San Antonio Spurs
,
Golden State Warriors
,
Minnesota Timberwolves
,
Los Angeles Clippers
MORE FROM YARDBARKER:
QUIZ: NBA players who have recorded 40+ pt games since 1999-2000
Since the 1999-2000 NBA season, 171 players have scored 40 or more points in a single game through the 2016-2017 season. How many can you name?
Clue: Team(s) that the players played for at the time of their 40+ point game and the number of times the feat has been accomplished.
Note: Includes playoff games with 40+ points
MORE FROM YARDBARKER
NBA News

Delivered to your inbox

You'll also receive Yardbarker's daily Top 10, featuring the best sports stories from around the web. Customize your newsletter to get articles on your favorite sports and teams. And the best part? It's free!