We've updated our Privacy Policy.
By continuing to use this site, you are agreeing to the new Privacy Policy.
Following his first win as a member of the Coyotes, goaltender Darcy Kuemper talks about the complete effort put forth by his new teammates en route to a 2-1 road win.
Coyotes Head Coach Rick Tocchet offers a scouting report on Darcy Kuemper, who will start on Wednesday in Vancouver, and talks about his expectations vs. the Canucks.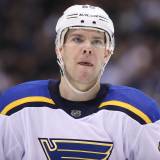 After a month of lead up, a sprinkling of trades over the last week or so, and a wild deadline day today, NHL teams are done with transactions for the 2017-18 NHL season. Here are the deals that improved contenders in the Western Conference:Deadline DayWinnipeg Jets receive:F Paul StastnySt. Louis Blues receive:F Erik Foley2018 first-round pickConditional 2020 fourth-round pick-...
LIKE WHAT YOU SEE?
GET THE DAILY NEWSLETTER:
Daren Millard, Doug MacLean, Chris Johnston and Elliotte Friedman discuss the trade that sent Darcy Kuemper from the Los Angeles Kings to the Arizona Coyotes and more.
The goalie situation just got a little better in Minnesota. After Josh Harding's injury, the Minnesota Wild couldn't have felt comfortable going into the season without re-upping Darcy Kuemper. After losing Josh Harding to a sudden broken foot, the absence of Darcy Kuemper became much more difficult to handle for the Minnesota Wild. His contract dispute with Chuck Fletcher seemed...
It's been wel documented that the biggest issue facing the Minnesota Wild coming out of this offseason is the goaltending situation. The last two weeks have seen that problem compound with the Wild's inability to sign last season's most used goalie in Darcy Kuemper. The dispute has lingered over the heads of the organization all summer and has become a minor distraction heading into...
Minnesota Wild acquire Ilya BryzgalovThe Minnesota Wild chose to make a low risk move a day before the trade deadline, acquiring goaltender Ilya Bryzgalov from the Edmonton Oilers. The move cost the Wild nearly nothing, just a 4th round draft pick in the upcoming draft. After a nearly a week of speculation in which the Wild had been linked to Martin Brodeur and Jaroslav Halak, the...
Much has been made about the NHL's Western Conference superiority over the hapless Eastern Conference throughout the first half of the season. Caught almost directly in the middle of the meat grinder is the Minnesota Wild, who is currently caught in between the 7th and 8th seed with their former division rival, the Vancouver Canucks. With the home stretch off in the distance and...
MORE STORIES >>
Kings News

Delivered to your inbox

You'll also receive Yardbarker's daily Top 10, featuring the best sports stories from around the web. Customize your newsletter to get articles on your favorite sports and teams. And the best part? It's free!