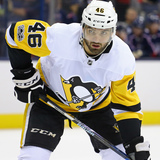 The Pittsburgh Penguins could be without rookie forward Zach Aston-Reese long-term. Actually, head coach Mike Sullivan described the injury as "longer-term", though he refrained from putting any specific timeline on his return. He did say that Aston-Reese suffered an upper-body injury in practice, which is why he missed last night's game, a 3-2 loss to the New Jersey Devils, and...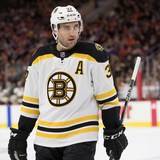 Injury news in the Eastern Conference keeps coming, as the Boston Bruins announced that Patrice Bergeron has a small fracture in his right foot and will be evaluated in two weeks. It's not clear how long the injury will keep him out, but any loss of Bergeron is a huge blow to the Bruins' final stretch. Bergeron blocked a shot against Toronto on Saturday night, but after an x-ray...
Patrice Bergeron has never won a Most Valuable Player award. He has won a Stanley Cup, he has won four Selke trophies for the best defensive forward, and has even won two gold medals. Bergeron has had a very successful career but one thing that is missing from his trophy case is an MVP award. There are many deserving players in the league that could win this award, but Bergeron should...
Every year at the NHL Awards Ceremony, the Hart Memorial Trophy is awarded to the "player judged most valuable to his team" in the National Hockey League. And every year Patrice Bergeron proves invaluable to the Boston Bruins. Bergeron has never been in serious contention for the Hart trophy because of his lower offensive numbers as he's more of a passer than a shooter… until this...
--------------------------------------------------------------------------------- SUPPORT CLNS MEDIA: Patrice Bergeron speaks about the Bruins youngsters and how they take to coaching and advice, eliminating mistakes. Powered by... DRAFT KINGS, go to http://draftkings.com and use PROMO CODE: CLNS for FREE match play TODAY! RXBar, go to http://RXBar.com/CLNS; enter the promo...
BOSTON - CLNS' Bruins Insider, Jimmy Murphy, reports in on Patrice Bergeron excited to get back to action with the Bruins after the NHL All-Star break. Check out full write up at: https://www.clnsmedia.com/nhl --------------------------------------------------------------------------------- SUPPORT CLNS MEDIA: Powered by... DRAFT KINGS, go to http://draftkings.com and use PROMO...
The Boston Bruins season opener against the Nashville Predators showed a lot of promise; despite missing star center Patrice Bergeron they pulled out a 4-3 win and everyone rejoiced as the team gave a glimpse of the success that was to come after a few rough seasons. But the absence of Bergeron, the subsequent loss of veteran forward David Backes, and the inexperience of the rookies...
It's no secret that since his draft by the Boston Bruins in 2003, Patrice Bergeron has been one of the most reliable members of the team and has worked his way up to being their top center. While he is more of a quiet, all-around presence in contrast to high caliber offensive talent like Connor McDavid or Auston Matthews, his undeniable skills have not gone unnoticed as he was named...
MORE STORIES >>
Bruins News

Delivered to your inbox

You'll also receive Yardbarker's daily Top 10, featuring the best sports stories from around the web. Customize your newsletter to get articles on your favorite sports and teams. And the best part? It's free!