Halloween is right around the corner, and we sincerely hope that you've been cramming as many spooky, scary and ghoulish movies in the month of October as possible. Wait, you haven't? Don't worry, as we've created a list of the movies you absolutely need to watch in anticipation of Oct. 31, before the calendars roll over to November. Here are the 25 best Halloween films of all time.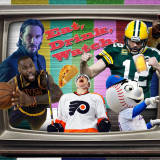 It's been a long week. You're tired. You're hungry. You're thirsty. You just want to find something to watch and unwind only to find not only do you have too many games to choose from on any given night to watch, there is an entire catalog of shows and movies you can barely keep up on.When did our weekends turn into so much work?So let's make it simple. Here is what you want to eat...
From left to right: Anjelica Houston, Raul Julia, Christina Ricci That apparently is the Kardashian family Christmas Card, featuring Lamar Odom. Unlike last year where he was photoshopped in, it looks like he was present for the shoot this time. It's just unfortunate Hand, Cousin It, and Uncle Fester couldn't make it. The seamstress is [...]
MORE STORIES >>
Entertainment News

Delivered to your inbox

You'll also receive Yardbarker's daily Top 10, featuring the best sports stories from around the web. Customize your newsletter to get articles on your favorite sports and teams. And the best part? It's free!