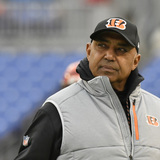 The Cincinnati Bengals announced on Tuesday that they have extended longtime head coach Marvin Lewis for two more seasons. The news was met with shock on social media, as most figured Lewis' time in Cincinnati had come to a conclusion after 15 seasons.We're now left wondering if Lewis himself has some sort of tape he's holding over the head of Bengals owner Mike Brown, because there...
Kevin Bacon is set to star in a television adaptation of his 1990 feature film Tremors. In addition to reprising his role as Valentine McKee, Bacon will also serve as an executive producer of the series, alongside Jason Blum (Whiplash; Insidious). The new series will be written by Andrew Miller, best known for another fantasy drama, The Secret Circle. The sci-fi movie featuring...
Usually it's Minor League Baseball that comes up with awesome midweek promotions to get people to come to the ballpark, but the North Carolina Tar Heels on Tuesday did exactly what every team in the country should do. Bacon Night. Bacon Night at the Bosh.
MORE STORIES >>
Entertainment News

Delivered to your inbox

You'll also receive Yardbarker's daily Top 10, featuring the best sports stories from around the web. Customize your newsletter to get articles on your favorite sports and teams. And the best part? It's free!