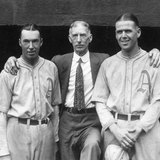 Ten MLB managers have won at least three World Series titles in their careers. How many can you name?
As you probably have guessed by now, I think baseball cards are great. Also appealing to me is the work of Warren Zvon, who makes cards that never were. Well, Warren has outdone himself this time. Check this out: Here's what he had to say: Since I use the cut-out method I end up with a bonus. A stand alone color cut-out of Casey that I can use with any background image I desire...
1965 TOPPS PUSH-PULL CASEY STENGEL Topps produced a wide variety of non-sport sets throughout the '50s and '60s. If you had an itch for cars, planes, space, flags, Elvis, The Beatles, Batman, or Hopalong Cassidy, the company was there to scratch it. On occasion, a baseball star or two would slip into these sets. Babe Ruth found his way into both the 1963 Valentine Foldees issue and...
Example: Casey Stengel Managerial Record - Baseball-Reference.com. Added a couple of columns showing the manager postseason W-L records.
"Tell me what position a man plays, and I can describe his hobbies, his personal life and the current state of his sock drawer." – Casey Stengel OK, Casey Stengel never
Back in the days of Casey Stengel and Earl Weaver, the platoon was commonly used. It was very successful as far as offensive production was concerned, using two players who received a good amount of playing time at the same position. There are many different types of platoons, they include: right-handed hitter versus left-handed hitter, fastball hitter versus off speed pitch hitter...
First Mets GM George Weiss And First Mets Manager Casey Stengel On October 16th, 1969 at Shea Stadium, in front of 57,367 hysterical fans the New York Mets wrote the final chapter of what is still today one of the most compelling "rags-to-riches" stories in Major League Baseball history. A team that for the first seven seasons of their existence had been a laughingstock and the...
During a 1942 exhibition game against the Brooklyn Dodgers, Casey Stengel, then manager of the Boston Braves, instructed a rookie pitcher to brush back Dodgers shortstop Pee Wee Reese. When the young pitcher refused, Stengel sent him down to the minors for the remainder of the season. Stengel, of course, would go on to win nearly 1,905 games as a manager and lead the New York Yankees...
What comes to mind when I mention "1962?" Is it Casey Stengel's fractured fairy tales? Is it Marvelous Marv and his unintentional hilarity in the environs of the first base bag? Is it sad-sack starter Roger Craig, a very good pitcher both before and after his Met tenure? Is it the sheer futile enormity of 40-120? When I think of the '62 Mets, I think of all this, but first, I...
Perhaps you have not devoted much thought to the Museum of the City of New York except to think, "What the heck are they doing with all those prepositions in there?" I have an answer for you: this Thursday evening at 6:30 PM, they are talking baseball with an evening devoted to the Hall of Fame manager of the Dodgers, Braves, Yankees, and Mets (not to mention the Toledo Mudhens...
MORE STORIES >>
MLB News

Delivered to your inbox

You'll also receive Yardbarker's daily Top 10, featuring the best sports stories from around the web. Customize your newsletter to get articles on your favorite sports and teams. And the best part? It's free!