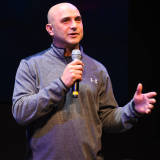 Craig Carton announced on Wednesday that he has resigned from his position as a radio host on WFAN.Carton, 48, has been a morning host on WFAN with Boomer Esiason for 10 years, but has stepped down after being arrested by the FBI last week amid allegations of fraud."For 10 years I've had the great privilege of showing up to work every day at my dream job. I have nothing but love...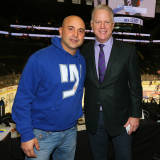 Craig Carton has reportedly been suspended by WFAN amid an investigation into his alleged crimes.Carton, 48, was arrested on Wednesday morning by the FBI for allegedly running a Ponzi scheme that defrauded investors out of $5.6 million.The co-host of the popular WFAN "Boomer and Carton Show" is said to have racked up millions in gambling debts to both casinos and third parties. He...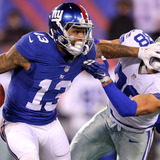 Phil Simms is well acquainted with the way the NFL does business, having been a member of New York Giants throughout his entire 14-year career. He knows teams don't adhere to the notion that players will decide when it's time to land new deals — especially when it comes to rookie contracts, which is what Odell Beckham Jr. is still working with.The Giants especially don't like to...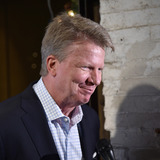 Tony Romo may be taking the place of Phil Simms on CBS's top NFL broadcasting team, but that does not necessarily mean Simms is leaving the network.In an appearance on NFL Network's "Good Morning Football" Thursday, Simms' son Chris — also a former NFL quarterback — reiterated that he is unhappy with the way CBS has handled the situation. He also noted, however, that Phil still has...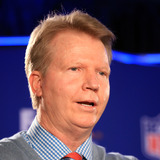 Phil Simms is being replaced by Tony Romo as a member of CBS's top NFL broadcast duo next season, and apparently he never saw it coming.While speaking about the situation on his Bleacher Report podcast Thursday, Simms' son Chris revealed that CBS officials did not inform Phil that they intended to remove him as Jim Nantz's on-air partner. Instead, Chris was made aware of the impending...
Going into the NFL off-season, the presumption was that there would be a high-stakes contest for the services of Tony Romo in 2017. Few guessed that it would be broadcast networks that would be the ones vying for him. When the market for him as a quarterback wasn't as robust as Romo figured, his health suddenly became more of an inducement for retirement. It also helped that multiple...
Tony Romo, if you haven't heard, is going to retire from the NFL and join CBS as a replacement for Phil Simms, per reports. Many are thrilled about this development. Just don't count legendary broadcaster Bonnie Bernstein, who expressed her strong opinion about the news on Twitter Tuesday. Now, Bernstein knows better than most what kind of work it takes to do an excellent job in...
We already knew CBS (and FOX) is eager to land Dallas Cowboys quarterback Tony Romo if he chooses to retire. Now there's a bit of a twist to this story. This is huge.Phil Simms is currently partnered up with Jim Nantz as the top-ranked CBS NFL broadcasting team. This means Tony Romo would be THE guy for the broadcasting giant in terms of color commentary for the network's biggest...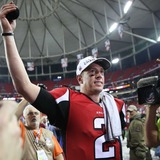 Matt Ryan is one game away from joining a rare group of playoff quarterbacks.According to ESPN Stats and Information, only six quarterbacks have ever thrown at least seven touchdowns and zero interceptions during a single postseason. Ryan brings those exact numbers—seven touchdowns and zero interceptions—into Super Bowl LI.The previous six—Joe Flacco (2012), Drew Brees (2009), Steve...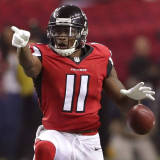 As a member of the Sports Media Conglomerate, I feel like I must begin this article with an apology. Football fans: I'm so sorry. I'm so sorry that we've only had about one-and-a-half competitive football games so far this postseason. Trust me, next year, when Yardbarker gets a seat at the shadow cabal meeting that decides what happens during every NFL games, we'll make sure that...
MORE STORIES >>
NFL News

Delivered to your inbox

You'll also receive Yardbarker's daily Top 10, featuring the best sports stories from around the web. Customize your newsletter to get articles on your favorite sports and teams. And the best part? It's free!