Toronto Maple Leafs head coach Mike Babcock talks about the skill and competitiveness of William Nylander including his highlight reel assist on a Zach Hyman goal against the Florida Panthers. ---------------------------------------------- Subscribe to Sportsnet on YouTube - http://sprtsnt.ca/2paAT2L Visit Sportsnet.ca for more sports news and highlights - http://www.sportsnet...
Zach Hyman finds the loose puck in traffic and puts it past Craig Anderson as the Toronto Maple Leafs lead the Ottawa Senators 1-0.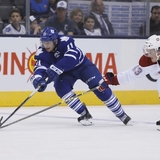 Toronto Maple Leafs forward Zach Hyman scores a huge shorthanded marker after one of his teammates got hit hard, and another got into a fight.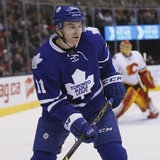 Maple Leafs defenceman Zach Hyman gets caught with a high stick from Columbus Blue Jackets forward Lukas Sedlak but unfortunately for the Leafs, it was not caught by the officials.
CLIP: Zach Hyman ties this one up at 4 with his team leading 14th goal of the season! #HymanforHobey http://t.co/UCOBlqols1 — Michigan Hockey (@umichhockey) January 24, 2015 The Michigan hockey team got off to a slow start on Friday night, but by the mid-way point in the third period, the Wolverines had completed the comeback […] The post Zach Hyman Scores Slick Backhand Goal, Continues...
MORE STORIES >>
Maple Leafs News

Delivered to your inbox

You'll also receive Yardbarker's daily Top 10, featuring the best sports stories from around the web. Customize your newsletter to get articles on your favorite sports and teams. And the best part? It's free!