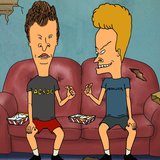 I don't think I'm blowing anyone's mind by saying that two is better than one. It takes two to make a thing go right, just as it takes two to tango. And it takes at least two people to play "Frog baseball," to have a proper roast of music videos, and of course, it takes two to work the drive-thru. Everything is just better with a friend – even if all they do is talking about "scoring...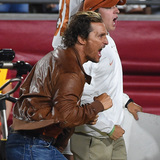 Alright, alright, alright.Matthew McConaughey is known as a hardcore football fan, and he was born in Uvalde, Texas. He now lives in Austin — the same city where Eagles quarterback/Super Bowl MVP Nick Foles grew up.That's why the star actor took out a full-page ad in a local newspaper, the Austin American-Statesman, on Sunday — congratulating Foles on the Super Bowl win. The interesting...
The Texas Longhorns got an emotional boost before Sunday's 50-47 double-overtime upset win over Notre Dame when a fired-up Matthew McConaughey delivered a powerful speech to the team. The University of Texas alum fired the Longhorns up with strong quotables such as: "So don't come out on Sunday night saying 'I wish I woulda-coulda'" Matthew McConaughey gave the Longhorns a pregame...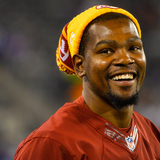 Kevin Durant says that one day he would love to own an NFL team and if he had his choice he would pick his beloved hometown Washington Redskins. The Oklahoma Thunder superstar is a huge football fan and his interest apparently goes beyond the action on the gridiron and to the front office, management and ownership side of things. He spoke of his post-NBA career aspirations during...
And here he is with Dan Snyder #Redskins pic.twitter.com/1jYYImiMEy — Dianna Marie Russini (@NBCdianna) June 4, 2014 Well, alright, alright, alright. Matthew McConaughey stepped foot onto the Washington Redskins practice facility to take in the sights and sounds of what encompasses a session of NFL Organized Team Activities. The Academy Award-winning actor and "True Detective" [...
MORE STORIES >>
Entertainment News

Delivered to your inbox

You'll also receive Yardbarker's daily Top 10, featuring the best sports stories from around the web. Customize your newsletter to get articles on your favorite sports and teams. And the best part? It's free!