The Indians plan on opening the regular season with Jose Ramirez back at third base and Jason Kipnis manning second. That alignment has created an uphill battle for third baseman Yandy Diaz to make Cleveland's Opening Day roster.
We caught glimpses of it in 2017. Will it lift off in 2018? At times this season I believed that certain hits, diving stops, or patient walks represented the moment at which Yandy Diaz finally blossomed into a first ballot hall of famer. What I'm trying to tell you — and this is just in case you're not already familiar with some of my articles — is that you aren't likely to get...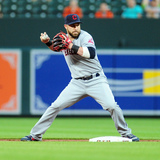 The hand injury to Bradley Zimmer has opened up a spot in center field for the Cleveland Indians, and the team is considering multiple options to fill the spot. One idea they're entertaining is playing second baseman Jason Kipnis in center.Kipnis is on the DL recovering from a hamstring injury that's kept him out since Aug. 22. He typically plays second, but since his injury Jose...
THE BICEPS ARE BACK, BABY! The Cleveland Indians have recalled third baseman and Man of Massive Biceps Yandy Diaz and optioned relief pitcher Shawn Armstrong, the team announced on Twitter. Diaz, who was previously optioned to make room for Jason Kipnis last month, has done nothing but tear up Triple-A pitching in his short stint with the Columbus Clippers. In 12 games (55 plate...
Yandy Diaz was already interesting before the 2017 season began. His combination of offensive and defensive skills compelled Carson Cistulli to include him often as a member of the Fringe Five, a group that's building quite a track record. He became more interesting early this season, however, when he made the Indians' 25-man roster and filled in at third base (while Jose Ramirez...
The Cleveland Indians will have some new muscle in their lineup to start the 2017 season. Yandy Diaz, who batted .325 in 95 games at Triple-A Columbus last season, made the big-league roster out of camp and is expected to garner substantial playing time at third base during the early going as Jose Ramirez has shifted to second in place of the injured Jason Kipnis, who is expected...
Diaz might be the first Tribe prospect we see at the show in 2017 Perhaps one of the biggest surprises in the voting thus far, Cuban prospect Yandy Diaz beat out slugger Bobby Bradley as well as former first round picks Brady Aiken and Will Benson to earn the LGT #4 prospect ranking. Acquired in late 2013, Diaz has made one hell of an impression in a short amount of time, beating...
Tweets from his VWL team are hinting at an injury, but nothing is confirmed. Cleveland Indians prospect Yandy Diaz's Winter League season may be over. A pair of tweets from Diaz's VWL team, Leones del Caracas, suggest the 25-year-old is returning to Cleveland, possibly for an injury evaluation. via @Andrsteel: Según Alfredo Pedrique,mánager del Caracas,el equipo está atento...
Coming into the season, the name Yandy Diaz was not one that anyone had really heard much about. In the league for just one season, he hadn't quite made a name for himself just yet. That might not be the case anymore, as Diaz has worked his way up the ladder and is now a legitimate option for the Indians, possibly sooner rather than later. Diaz was signed by the Indians prior to...
The Indians may have something special brewing at third base in Akron. Third base may be one of the shallowest positions through the Indians minor league system. They currently have Giovanny Urshela manning the hot corner, with Lonnie Chisenhall also able to fill that role, as he has been there on and off for the last five seasons. Aside from the two of them, there are bunch of guys...
MORE STORIES >>
Indians News

Delivered to your inbox

You'll also receive Yardbarker's daily Top 10, featuring the best sports stories from around the web. Customize your newsletter to get articles on your favorite sports and teams. And the best part? It's free!