We've updated our Privacy Policy.
By continuing to use this site, you are agreeing to the new Privacy Policy.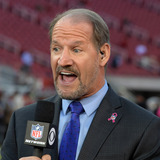 Former Steelers head coach and current CBS analyst Bill Cowher used the best possible method to reveal his pick to win Sunday's wild-card game between the Bills and Jaguars.Cowher made his routine appearance on "The NFL Today" before the game kicked off, and he had his CBS colleagues bring out a table so he could announce who he was picking. He then began chanting "Buff-a-lo!" to...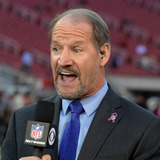 The Buffalo Bills are in the playoffs, baby. For the first time since 1999, Bills Mafia has something to truly celebrate, and CBS analyst Bill Cowher thinks they'll be cheering well after Sunday's game against the Jacksonville Jaguars.Cowher picked the Bills to win, then proceeded to take a flying leap onto a folding table, Bills Mafia style. Now, obviously there were a couple of...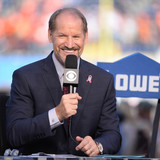 Former Pittsburgh Steelers head coach Bill Cowher isn't in the least bit interested in leaving his job in television to coach the New York Giants.Cowher, who's been a person of interest before when the Giants were looking for a new coach, definitively shot that idea down in an interview with Justin Terranova of the New York Post."No, it's not even about a team, it's about lifestyle...
LIKE WHAT YOU SEE?
GET THE DAILY NEWSLETTER: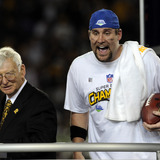 Steelers chairman Dan Rooney, who died Thursday at age 84, already was in the Pro Football Hall of Fame when a stroke of his leadership set the Steelers on the path to their fifth and sixth championships.Head coach Bill Cowher and director of football operations Kevin Colbert were ready to draft Arkansas offensive tackle Shawn Andrews with the No. 11 pick in 2004.When the Steelers...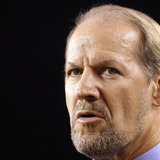 Baltimore fans showed no mercy for one of their rivals on Friday. Former longtime Pittsburgh Steelers head coach Bill Cowher was in attendance for Friday's Orioles-Yankees game at Camden Yards, and he even sported an Orioles cap to show his allegiance. But that wasn't enough to win over the passionate crowd. According to many in attendance, Cowher was still booed when shown on...
Former Pittsburgh Steelers head coach and current "NFL Today" analyst Bill Cowher was among the esteemed guests who were granted up-close access to the "Victoria Secret's Fashion Show" that aired on CBS on Tuesday night. Of course, this makes perfect sense as networks generally like to give their on-air personalities some face time during broadcasts […]The post Bill Cowher seemed...
Former Pittsburgh Steelers head coach and current CBS analyst Bill Cowher enjoyed himself at the Victoria's Secret fashion show Tuesday night.  I didn't hate it watching it on television by any means, but Cowher ABSOLUTELY DUG IT. [Jimmy Traina - Instagram]
You gotta give Duke forward Ryan Kelly some credit. He's not afraid to ask Bill Cowher for his daughter's hand in marriage. Kelly, who earned his diploma and could be selected in next month's NBA Draft, proposed to Lindsay Cowher, the daughter of the former Steelers coach. And he got the answer he was looking for. The love of my life @ lindsaycowher said yes! #sohappy #blessed...
Former Pittsburgh Steelers head coach Bill Cowher told Newsday on Tuesday that he would be open to returning to the coaching again at some point. Cowher, who was interviewed at a CBS function to promote the upcoming coverage of the Super Bowl, said that he probably will return to the NFL, but didn't say when exactly that would be. "It would be a challenge," said Cowher, per...
Former Pittsburgh Steelers head coach Bill Cowher is moving on up to a deluxe condo on the east side. The New York Observer reports Wednesday that Cowher paid $2.65 million for a 1,500 square foot, two bedroom, condo in Manhattan's Upper East Side recently, that overlooks portions of Central Park. While most everyone will try to speculate that this means Cowher is setting himself...
MORE STORIES >>
NFL News

Delivered to your inbox

You'll also receive Yardbarker's daily Top 10, featuring the best sports stories from around the web. Customize your newsletter to get articles on your favorite sports and teams. And the best part? It's free!