We've updated our Privacy Policy.
By continuing to use this site, you are agreeing to the new Privacy Policy.
Michael Phelps shoutsout Michigan basketball after beating Houston on Jordan Poole's game-winning three-pointer. Flip the page to see more reactions from Twitter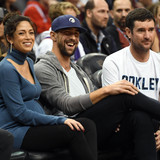 Two celebrities hit up Friday night's Rockets-Suns game at Talking Stick Resort Arena, and it wasn't a very likely pairing.Golfer Bubba Watson and 23-time gold medal winner Michael Phelps were spotted courtside during the game. Was Phelps giving Watson tips on his swimming stroke? Or was Watson helping Phelps improve his golf game? We may never know, but we do know that they were...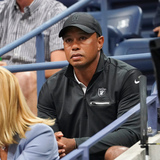 Very few people in the world can truly relate to Tiger Woods. But from both a personal and professional perspective, one of who can is Michael Phelps. Since Tiger's DUI arrest in May, the two have developed a relationship, with Karen Crouse of The New York Times saying that Phelps is "lending an ear to the golfer.""I feel like that's a massive scream for help," Phelps said of Woods...
LIKE WHAT YOU SEE?
GET THE DAILY NEWSLETTER:
Michael Phelps has won more medals — 28 — than any Olympian swimmer of all-time, but let's be honest, no one expected him to be able to beat a Great White Shark in a race. But it was fun to watch anyway. Phelps raced against a shark to kick off Discovery Channel's annual Shark Week, in Phelps vs. Shark: Great Gold vs. Great White. Much to the surprise of no one, the shark came out...
Want more news first thing in the day? Sign up for the Yardbarker Morning Bark newsletter here.Good morning and welcome the the YB Box Score, what we're reading while making sure our phone is fully charged in case our agents need to call us this weekend. Happy birthday today to Michael Phelps, Ben Utecht, Chan Ho Park, Jim Montgomery, Mike Tyson and Sterling Marlin. On this date...
GOAT swimmer Michael Phelps, after winning 23 gold medals, is totally over racing people nowadays. Instead, he's now moved on to giant mammals — specifically one type that is a legitimate killing machine. Phelps will soon race a great white shark, as a part of Shark Week, and we're pretty excited about it. Phelps Vs. Shark: The Battle for Ocean Supremacy will air on July 23 and looks...
Michael Phelps looked like he fell asleep in a chair while tanning at some point in Arizona while at Monday night's national championship game. Phelps got roasted — both by the sun and on social media — after being shown on TV looking just a bit sunburned. Check out how red his face is, and the tan line left by the sunglasses he was likely wearing while taking in massive amounts...
Michael Phelps was in for a bit of a surprise when he ordered Starbucks on Monday.Phelps shared an image on Instagram of three Starbucks cups, all of which had rather unique names written on them in deference to the 28-time Olympic medalist. The "GOAT" -- which is an acronym for "Greatest of All Time" -- one is good. The "wife of GOAT" and "friend of GOAT" ones are just plain funny...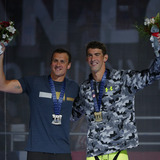 As if most peoples' opinions of Ryan Lochte weren't already negative enough, this probably won't help matters. Lochte was interviewed by USA Today for a long feature, and in it he talked about the reception he's had from his USA Swimming teammates since the infamous incident in Rio. Specifically, Lochte complained that swimming icon Michael Phelps wasn't really there for him when...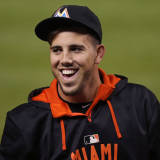 Sunday was a dark day in the sporting world from its onset, as news of the tragic death of Miami Marlins pitcher Jose Fernandez broke at dawn. Fernandez, one of the game's brightest young stars and frontline contender for the National League Cy Young Award, died early on Sunday morning when a speed boat he was a passenger on crashed and overturned. Fernandez' death has sent a stunning...
MORE STORIES >>
Swimming News

Delivered to your inbox

You'll also receive Yardbarker's daily Top 10, featuring the best sports stories from around the web. Customize your newsletter to get articles on your favorite sports and teams. And the best part? It's free!