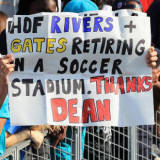 Front Five: The top stories that shaped both sports & politics this week "We embrace any team that comes, we're certainly happy to have the Chargers in L.A., but I think we could have been happy with just one, too." – Los Angeles Mayor Eric Garcetti on whether he wanted two teams in L.A. Week 2 of the NFL season saw two professional football teams play home games in Los Angeles...
Good news for combat sports lovers and movie aficianados! The trailer for the highly anticipated film Foxcatcher, based on the true story of the murder of Olympic wrestler Dave Schultz by his coach, paranoid schizophrenic multi-millionaire John Eleuthère du Pont, has finally been released. Foxcatcher 2014 by cleetusvandamne The film stars Steve Carell as eccentric multi-millionaire...
Don't know what the hell, I'm talking about? Click here for the setup, watch the video, and hit the back button. Here is Chili's response, in Comic Sans font, of course.
This is hilarious. Honestly I completely agree with Carell's decision, but I won't blow it for you and let the cat out of the bag. Enjoy.
MORE STORIES >>
Entertainment News

Delivered to your inbox

You'll also receive Yardbarker's daily Top 10, featuring the best sports stories from around the web. Customize your newsletter to get articles on your favorite sports and teams. And the best part? It's free!